Hybrid Event Guide: Marketing and Managing Aspects of Hybrid Events
Hybrid events give you access to both worlds: the online virtual world and the in-person experience.
With the relief in Covid-19 restrictions and people getting vaccinated, event planners are eager for in-person meetings to return. But we know that the situation will not be the same as before because now we have finally nailed the virtual event thing.
Now, we will be tossed a new curveball with some people who are ready to reconnect in person, while others want to connect virtually. To cope with that, hybrid events are the only way forward. In fact, 47 Percent of the organizers think that hybrid events are the only solution in connecting internationally dispersed audiences.
The above statistic shows why hybrid events are the need of the hour. Now, the question is: how you can plan, manage and market your hybrid event? Well, don't worry, as, in this Hybrid event guide, we will discuss:
– What is a Hybrid event
– Advantages
– How to plan the marketing strategy
– Tips to host a successful event.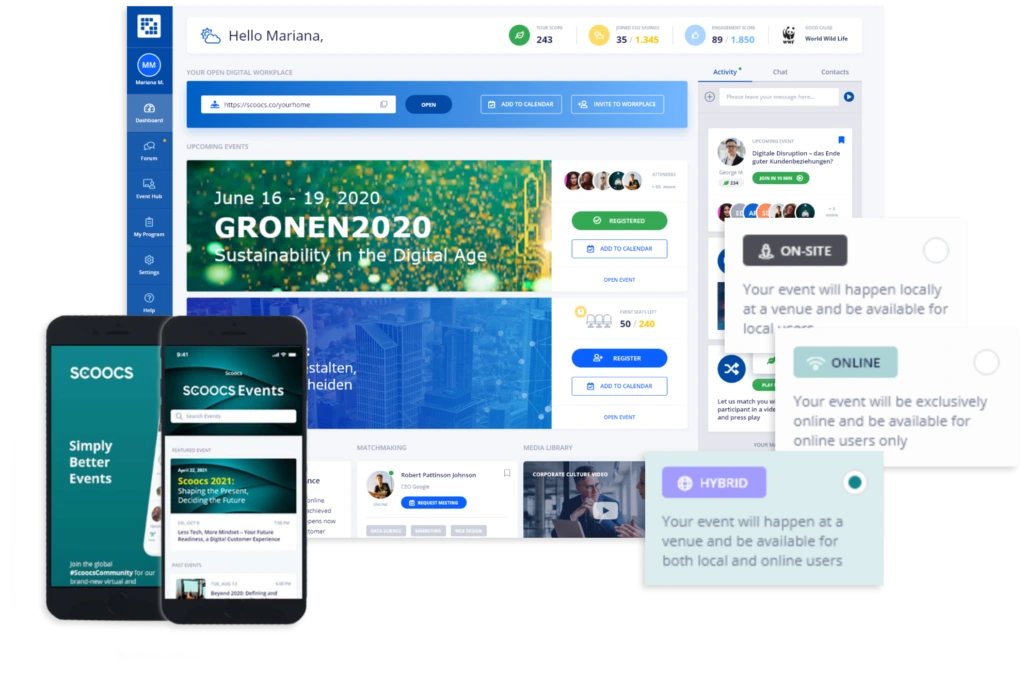 What is a Hybrid Event?
Most people confuse hybrid events with in-person events live-streamed to an online audience, when, in fact, hybrid events have one combined audience. One part of the audience is joining through some virtual means, while others attend the event in person. These events are planned for the attendees to participate in their comfort zone; it is their choice whether they want to attend from home, office, or in person.
With a well-managed hybrid event, virtual participants feel like they are part of the event even though they are not physically present. A hybrid event platform such as SCOOCS can help you host successful hybrid events with its ability to create the best in-person experience for the entire audience, regardless of where they are situated.
If you want to read about hybrid events in depth, then click on the link.
Benefits of Hybrid Events

Here are some benefits of hybrid events that will remind you why you should consider creating one!
Increase the size of the audience at less cost
If you are hosting an in-person event, but its cost restricts you from increasing the size of the event, then hybrid events are the perfect solution for you. When hosting an in-person event, there are many areas to cover, for instance, the charge of catering, traveling, additional staff, and other costs to accommodate the attendees. On the other hand, adding virtual participants to your event costs a lot less: this is one of the best reasons to host a hybrid event.
Allowing attendees to join virtually
With the Covid-19 Pandemic, many people can not travel due to certain countries preventing citizens from other nations from crossing borders. Besides this, health issues, disabilities, and financial situations could also be the reason why people cannot join in-person events.
Hybrid events allow the attendees to join the event virtually regardless of the location. It does not matter where you are, you can join the meeting or event virtually on your computer or mobile.
Decreases the carbon footprint
One of the most important reasons why you should go with hybrid events is that they are good for the environment, as they play an important role in decreasing the carbon footprint. When hosting in-person events, people travel from different parts of the world, and this causes about 170 kgs of CO2 emission by an average attendee. But with hybrid events, this rate of carbon dioxide goes down because several people are joining the meeting through virtual means, which is, as a result, good for the environment. Would you like to know your CO2 savings? Then check out our CO2 Calculator!
To read more about the benefits of hybrid events, you can read this article!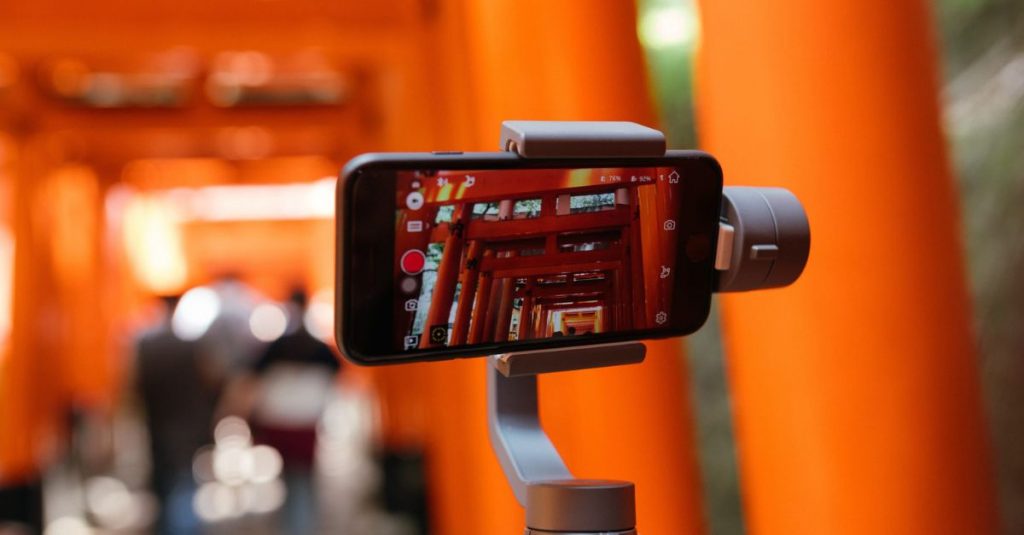 Planning the Marketing Strategy of a Hybrid Event
Pulling off a hybrid event is not an easy task, but if marketed correctly, it can help you reach a bigger audience than ever. Here are some factors that you need to remember while planning your hybrid event marketing strategy:
1. Begin with establishing your goals
The main part of hybrid event planning is to have a clear sense of what you want to achieve through this event. This is not just about how many participants you are expecting to attract but instead, it is about your goals for registration and ROI for each stage of your event. Below are some examples of hybrid event goals:
Attracting new audience
Increasing registration numbers
Providing cross-platform networking
Attracting more sponsors and partners for the hybrid event
Increasing event ROI
So, make comprehensive goals at the early stage of your hybrid event marketing strategy and then hold some sessions for each stage to discuss how you can achieve these goals as well as what to do if you fall behind.
2. Determine your channels for marketing
When selecting channels for marketing the hybrid event, everything depends on the audience and how to connect with them. In case you have hosted events in the past, then you can easily analyze the previous data to identify the prominent traffic and conversion sources. When analyzing the data, you don't have to go deep, you can check the website performance through Google Analytics, and see how many people have landed on your Site through Facebook ads, or you can also check what percentage of the target audience opened your mail, etc. But if it is your first time, you can choose these platforms to attract new audiences:
Social Media
The most active and effective channel to reach the audience is the social media platforms. You can use Facebook, Instagram, Twitter, LinkedIn. B2B audiences are mostly found on LinkedIn, while for B2C, you can use the typical social media platforms such as Facebook, Instagram, and Twitter because they all have different audience types.
Email
Email is also an effective way to reach the target audience. When you are using emails for marketing, you need to be careful about the subject line, content, and CTAs (Call to Action).
Traditional Mail
Traditional physical mail is also effective in marketing, as you can send the invitations to the attendees' homes or offices. You can use this strategy for the attendees who do not have an active presence on new media and are still stuck in the old traditional ways.
3. Finding a hybrid event platform
A hybrid event platform is one of the main considerations to have in your marketing strategy because the features available on the platform will help you create a unique and exciting experience for the attendees.
You have to find a hybrid event platform that could help you in creating a unique experience for the virtual audience and increase the engagement of in-person attendees. Here are some features that you should look out for when finding a hybrid event platform:
A platform that contains tools for live chats, Q&A, Polling, and comments to make the event more interactive
The platform must have messaging and meeting Scheduling tools, 1 on 1 Meetings, and public discussion forums
Gamification features must be there to give participants a fun experience
Customization options! This one is really important, since it will allow you to create your own unique identity as an organizer.
This is where SCOOCS can help. We provide you with all the tools you need to create your own virtual venue, where you can fully customize every event to your liking and choose from numerous features to give your audience the most immersive experience! From networking tables to surveys, polls, quizzes, you name it! Everything you envision, we can make it come to life! Learn more about what we do, here!
4. Find Speakers and Sponsors to advertise the Event
One of the best ways to advertise something is through word of mouth. So, try to find speakers and sponsors that already have a built-in audience so that they can promote your event but also expand their reach. You can provide the speakers and sponsors with pre-made posts that they can share on their social media handles to spread the word about your event. This can be a win-win for both parties!
Tips to create a successful Hybrid event
When it comes to Hybrid event management, you need to follow these tips to make sure your event is a big success:
Make an agenda for all audiences
You have to make an agenda that is suitable for all the in-person and online attendees. Here are some things that you have to keep in mind while making an agenda:
Make sure the start time of the event is not too early for the in-person attendees who may have traveled the night before for the event. And also keep in mind the virtual audience, who may not be enthusiastic about the early starting time.
Plan breaks, keeping in mind the lunch plans
Keep the sessions shorter, so the attendees feel fresh and alert all the time
Avoid late-night networking sessions as they bring sleepy eyes
If you keep these things in mind while making an agenda for the hybrid event, we are sure that your event will be a success.
Communicate pre-event and give attendees Tote Bags
Make sure to provide both in-person and virtual audiences some reading material about what to expect in the event because events are more successful when there are clear expectations about the attendee experience.
To make people more excited about your event, you can provide them with tote bags that contain your merchandise. But make sure that you are delivering the bags to both audiences a day prior to the event.
Plan engaging content
The most important thing in any event or meeting is the participation of the audience and to make attendees participate in the meeting, you need to create some engaging content. Here are some ways that you can use to engage the audience:
Live Streams
Live Polls
Q&A
Pre-recorded sessions
Quizzes and more
Just ensure that the content you are making is engaging for both the virtual and in-person audience.
Connect Virtual and In-Person Attendees
Besides the content, one of the main reasons why many people attend events is networking, which is just the same in hybrid events. Below are some top tricks to bring the virtual and in-person attendees together:
Hold Simulive sessions so that when both attendees are watching a pre-recorded session, they can interact with each other via chatbox
You can also hold one-on-one private sessions for the attendees to chat about the event
You can hold Breakout sessions with a facilitator to help the attendees feel at ease
By adopting these necessary tech capabilities, you can surely bring together and connect virtual and in-person audiences.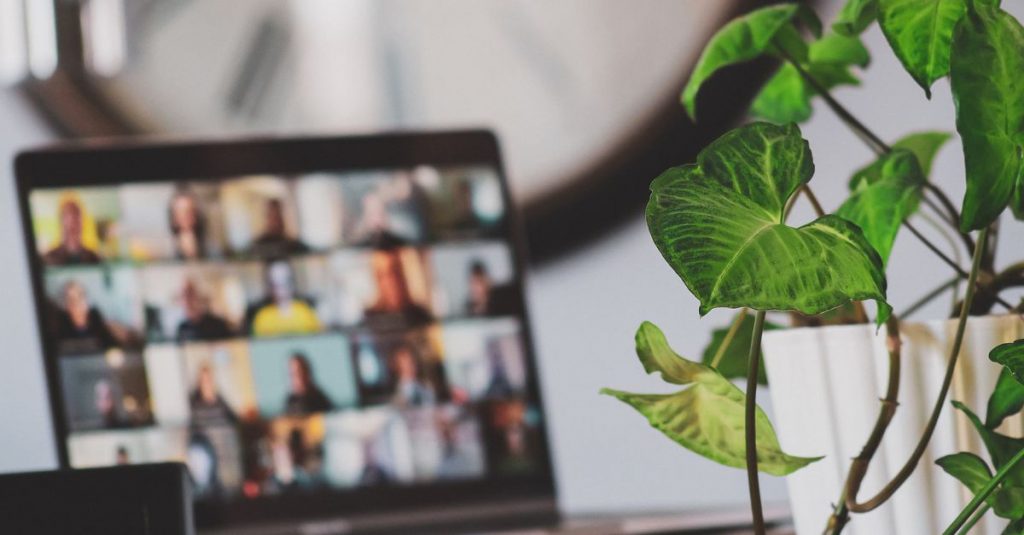 Final Verdict

By now, you must have gotten an idea that these hybrid events have a promising future, and they can play an essential role in reforming the event industry. Research from Markletic shows that 34 Percent of the event organizers will invest more in hybrid events in the future.
In this Hybrid Event Guide, we have presented to you some effective tips about creating a marketing strategy and hosting a successful hybrid event. We are hopeful that these tips will help you host a successful hybrid event in the future.