Academic Events with SCOOCS
As sustainability researchers and university teachers, we have been witnessing the challenges faced by higher education institutions: the high-speed digitalization of a mainly in-person teaching model, the canceled events, and postponed conferences. We have built SCOOCS (formerly iChair), after searching for a suitable virtual event platform for colleges and Universities, as we were in charge of hosting the GRONEN international conference in 2020. Always bearing our academic events in mind, we wanted a fully customizable platform with engaging features. After the first successful virtual event experiences, we continued to develop new features and decided to start SCOOCS!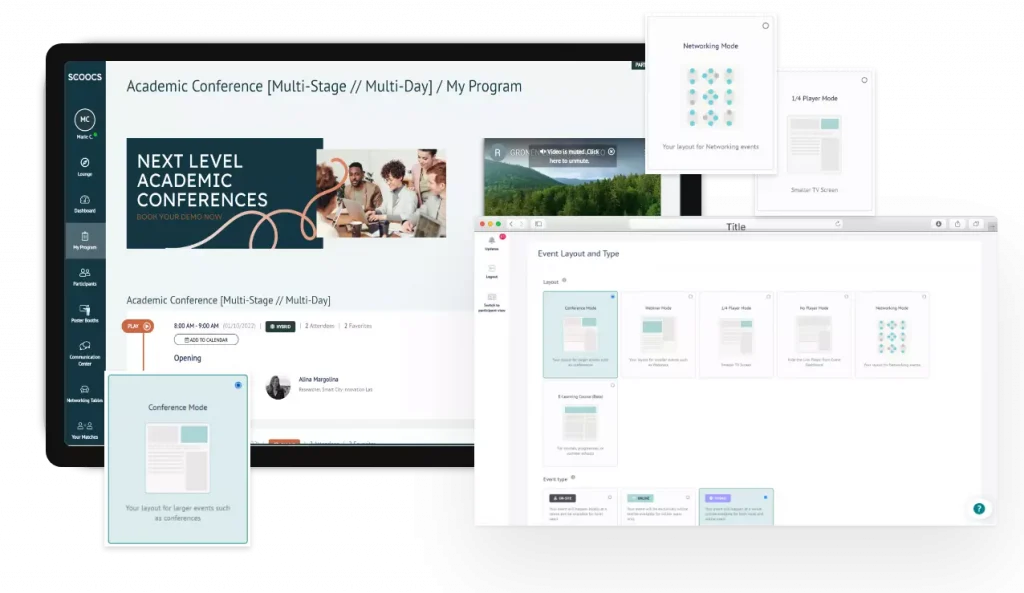 "SCOOCS is a highly intuitive platform that provides intelligent tools to foster interaction and social networking, which was a key reason why we chose it."
Key Features for Academic Events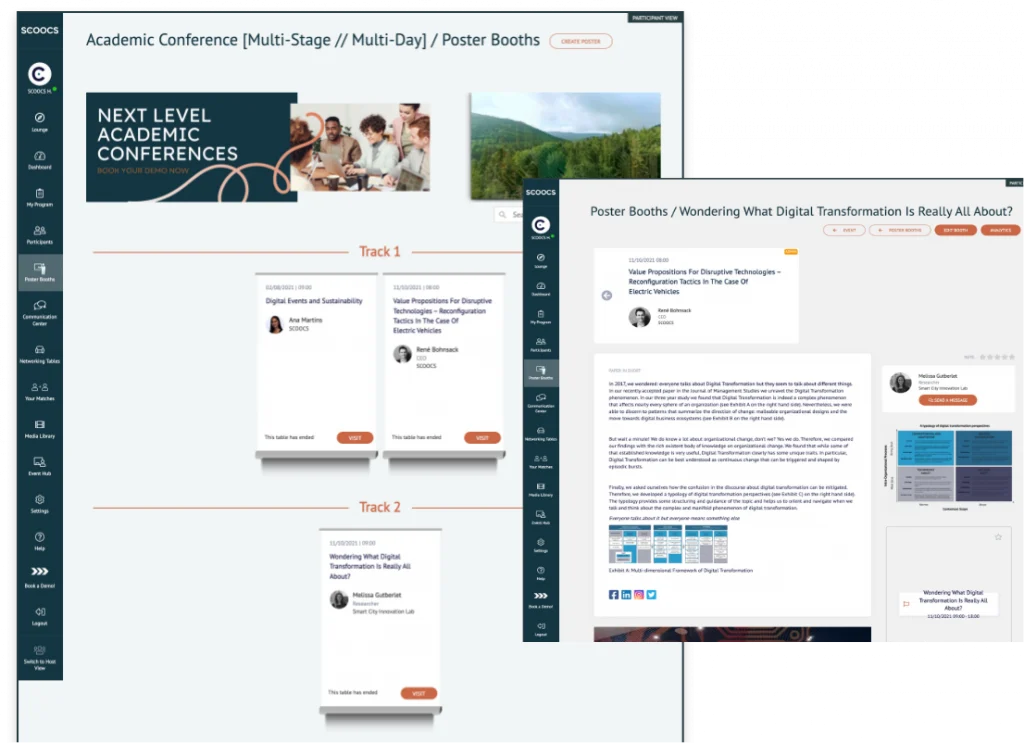 Leverage your poster sessions with our easy to set up multimedia poster booths
It has never been so easier to create a year-long community. Connect your alumni with your new students in your networking tables. Easier than in person!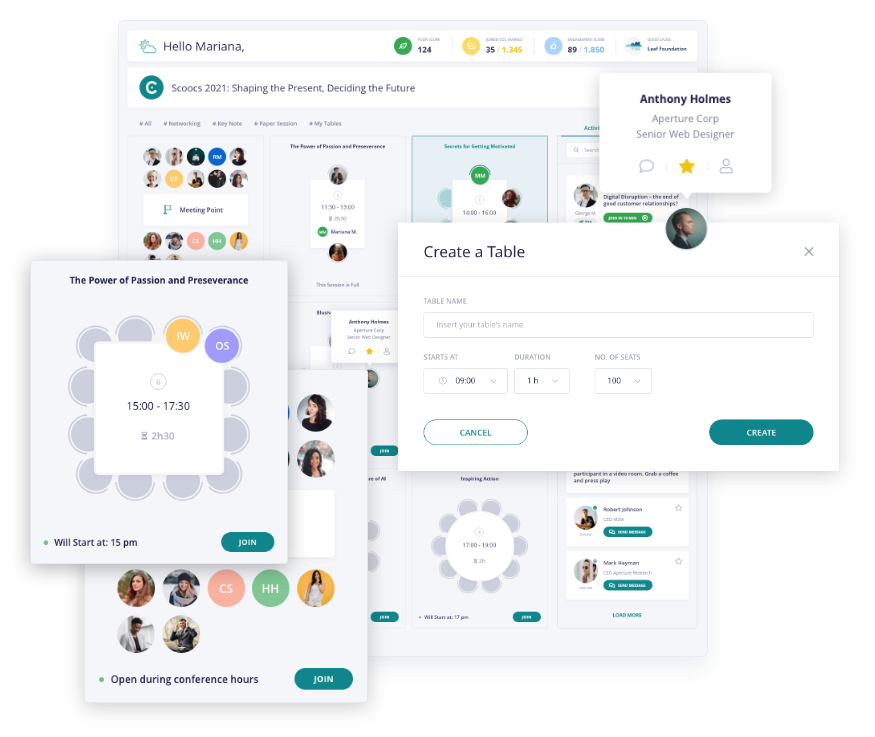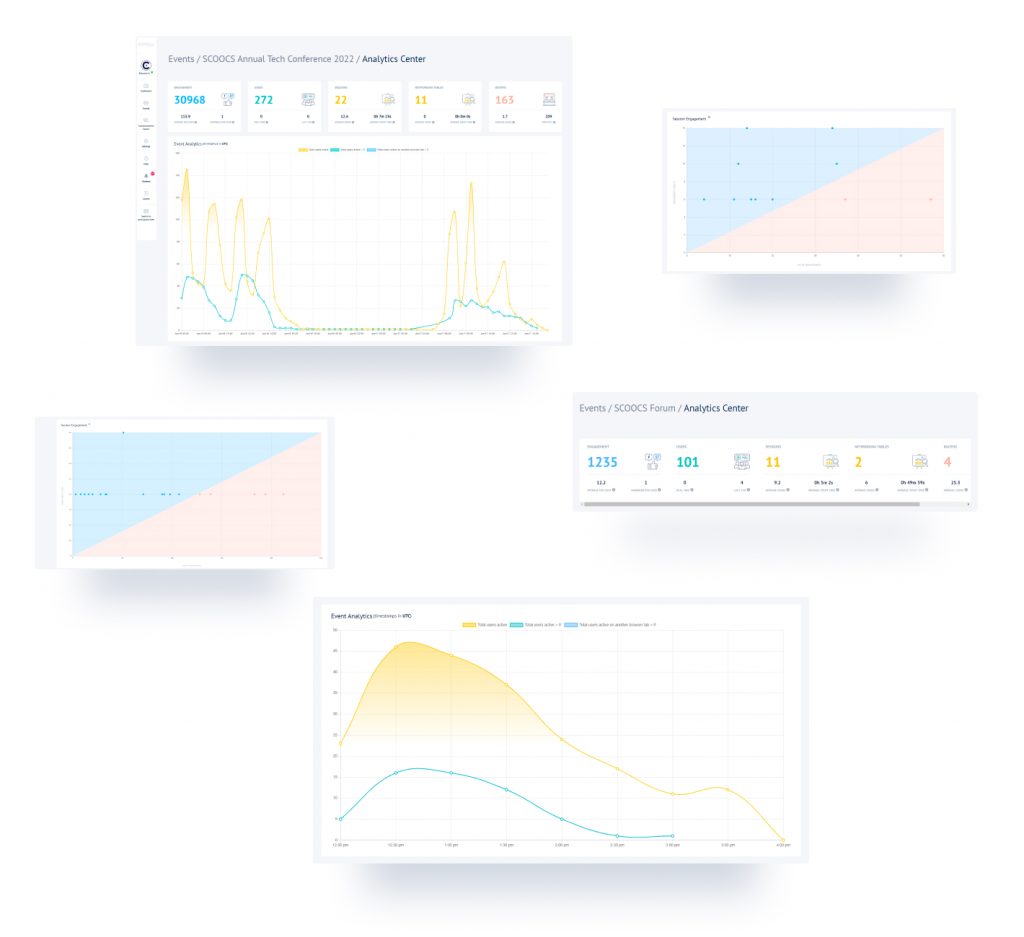 Get built-in analytics with real-time data, as well as the ability to test your sessions and see exactly what works. Activate engagement measures to incentivize users to experience your virtual venue the way you plan.
Ways to use SCOOCS - Colleges and Universities
Learn how our amazing features can help you organize all kinds of successful academic events: conferences, open days, poster sessions, admission events, or any other custom format!
Yes, it is possible to have an engaging academic conference with our virtual event platform-tools! With SCOOCS you will have your own virtual venue – with your colors, your branding, and your multimedia content- that will help you to reinforce your identity and feeling of belonging among your academic community.
You can have multiple simultaneous stages and sessions, while your attendees can navigate between the different sessions. It is possible also to have private sessions under invitation only.
It's possible to easily set up your academic conference in minutes, saving you time for what is the most important for you: your research. You can also count on a dedicated team to help you and always assist you when needed.
The AGRH team has chosen us for their 31st congress: learn here how we helped to have a successful academic conference.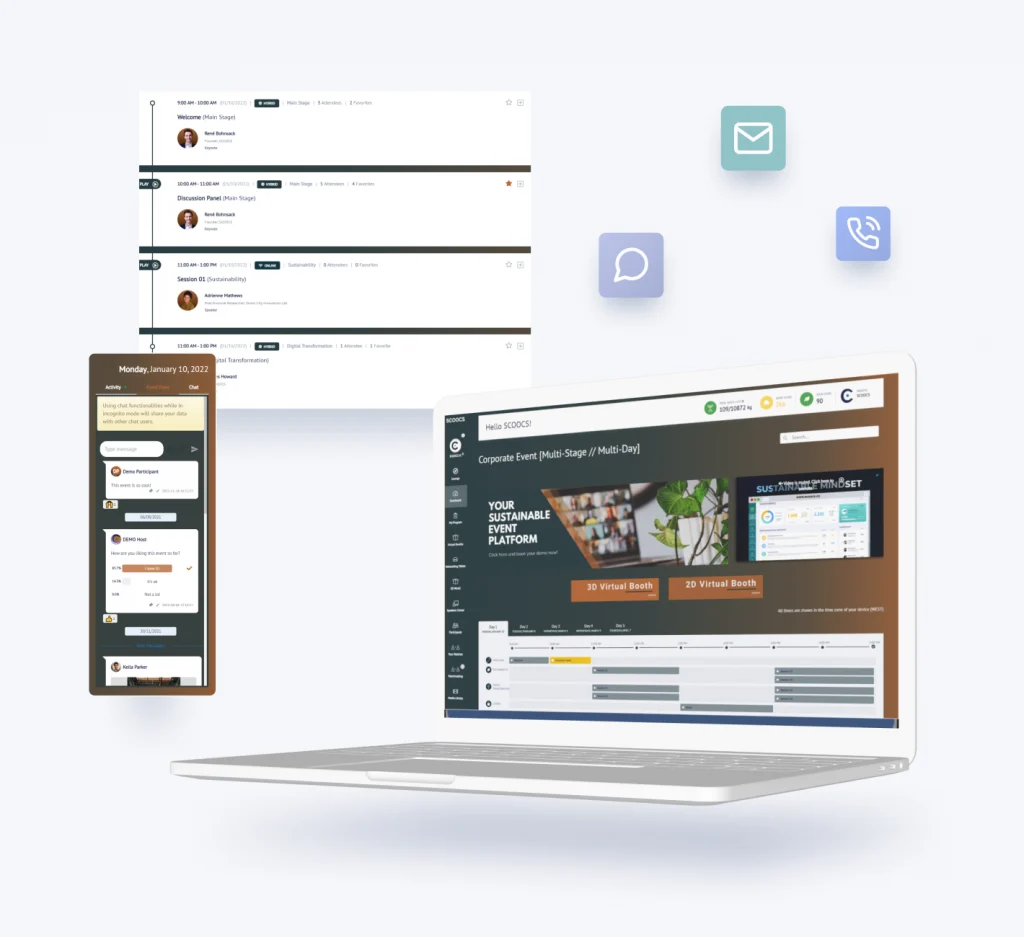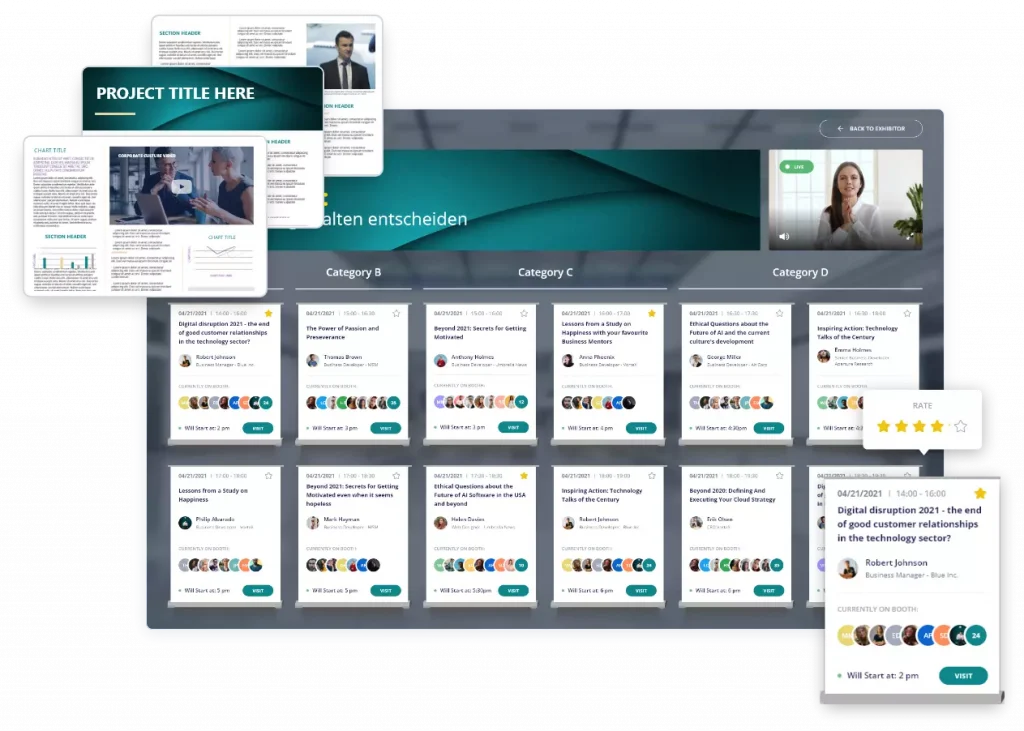 Poster Sessions are an effective and dynamic way of presenting your research work. Widely used in the academic community, we have worked to create a virtual poster session feature that outstands the in-person experience.
Who said a poster had to be static? In our poster booths you can display various types of files: your abstracts or papers in pdf format, show your graphic or data with an image, embed a video with further information, and provide how many links you wish. Moreover, you can also add links to your social media profiles, embed an iFrame with your podcast or another multimedia file. Your peers will be able to rate your poster, send you a message, or join a discussion on a networking table dedicated to your poster theme!
Check here how the Helmholtz team has successfully performed their poster sessions with SCOOCS!
The question is not new: how to outstand the experience of an in-person open day? The great advantages of organizing your online open day, are the opportunity to reach and include international students more easily and to lower the logistics burdensome of an on-site event.
Include our integrated subscription form in your landing page for a smooth check-in, showcase your academic offer with our sponsor stands: create an exhibition hallway with representatives to whom the students can talk at any moment. Or build even a more immersive experience with our 3D world! With our networking tables, alumni can easily meet the (future) new students and exchange ideas!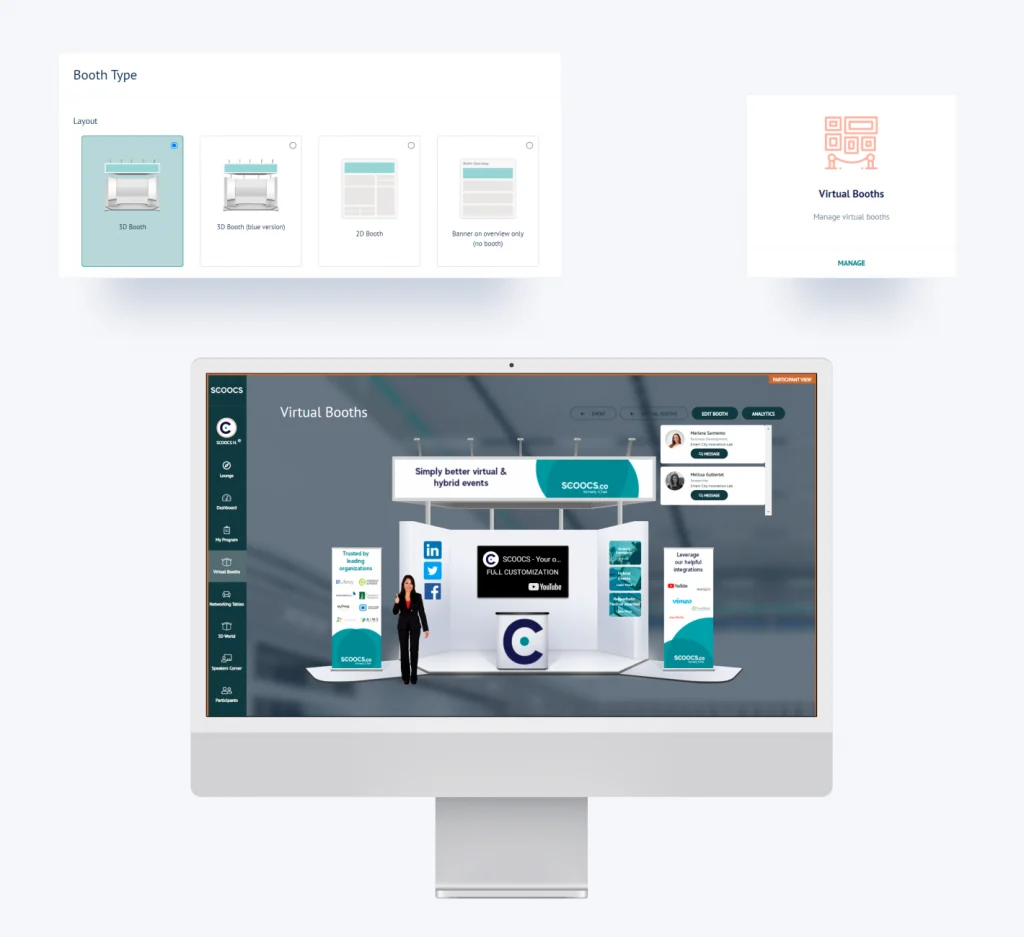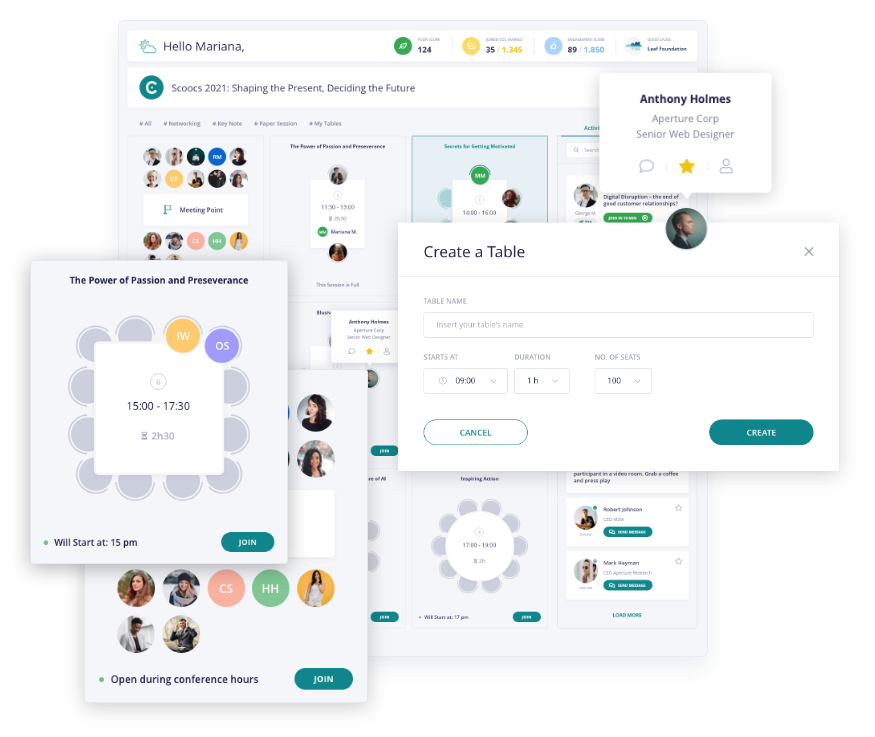 University Admission Event
Your virtual & hybrid University admission event can now be more inclusive, and the opportunity to jumpstart a community right from the beginning of the academic year. Gather your alumni with the new students on our networking tables. Arriving at our networking tables area is like entering a room with a lot of thematic discussion tables, but with an upgrade from the in-person version: you can now see on a glimpse who are the attendees and move more easily between the tables.
Create an engaged community with our gamification features: imagine a monthly students gathering, where the most engaged users are rewarded! It is possible with our platform! You can also enable the CO2 calculator with what would be the physical location of your event. The students will then enter their location and the transportation mode they would take to attend the event. Our Co2 calculator will determine how much CO2 was saved, and that amount will revert into saved trees!
Extending the bridge between the academic and the professional world has always been one of the major challenges faced by Universities. Now with our virtual event platform for colleges and universities, it's possible to leverage your career fair to the next step.
Create an immersive experience for your stakeholders with our 3D world, where companies can showcase their amazing offers and attract the best talents! Participants can engage with our networking features, sending private messages, engaging in a 1-1 video, or using our match roulette, where they will be randomly paired with a company that offers what they have been looking for. Of course, it will be possible to have extensive analytics on all the activity performed on the platform, all within the scope of GDPR compliance.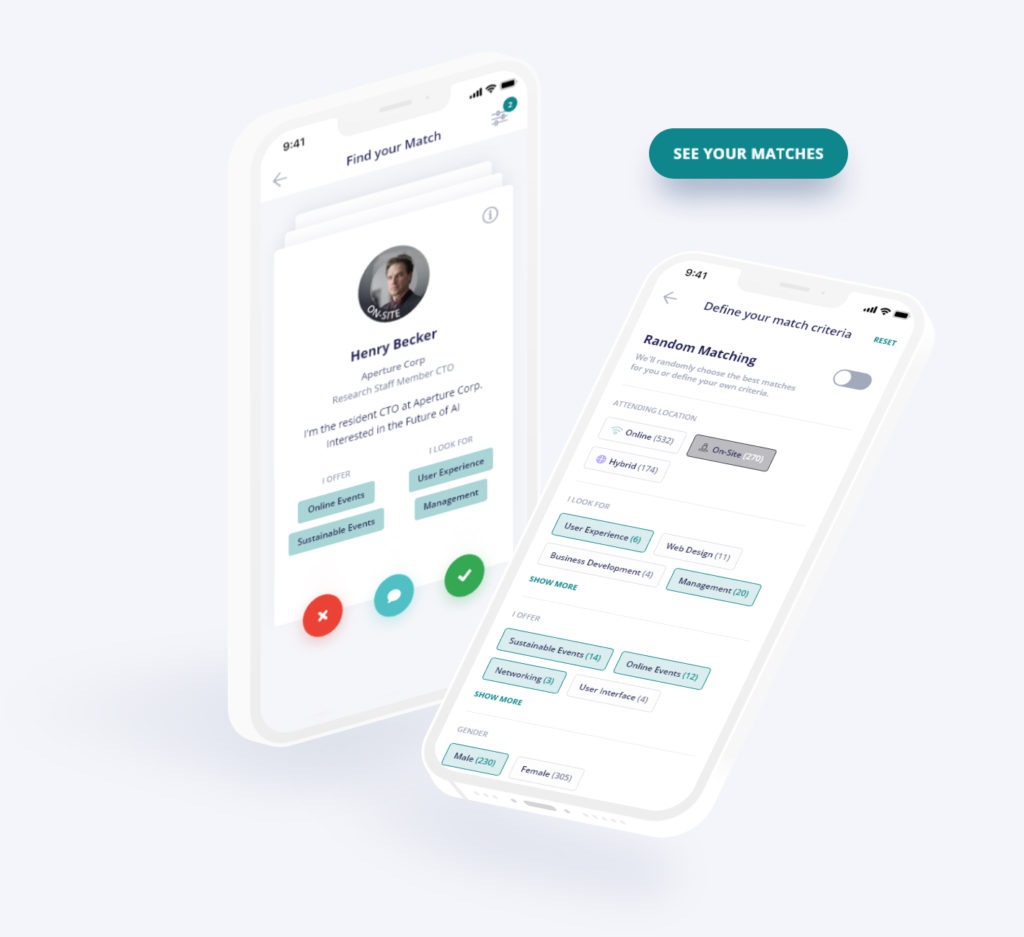 Click on this button to book a demo with a SCOOCS Team member.
Get to know the platform and have your questions answered.