SCOOCS platform for webinars
Webinars are an effective way of generating leads and increasing your customers' satisfaction. And what if your platform for webinars could be much more? A community, a networking playground, a lead generation tool, and an evergreen video library! And more: a place where you can step up your game and host big events with multiple stages and exhibitors' booths! Yes, this is possible, welcome to SCOOCS!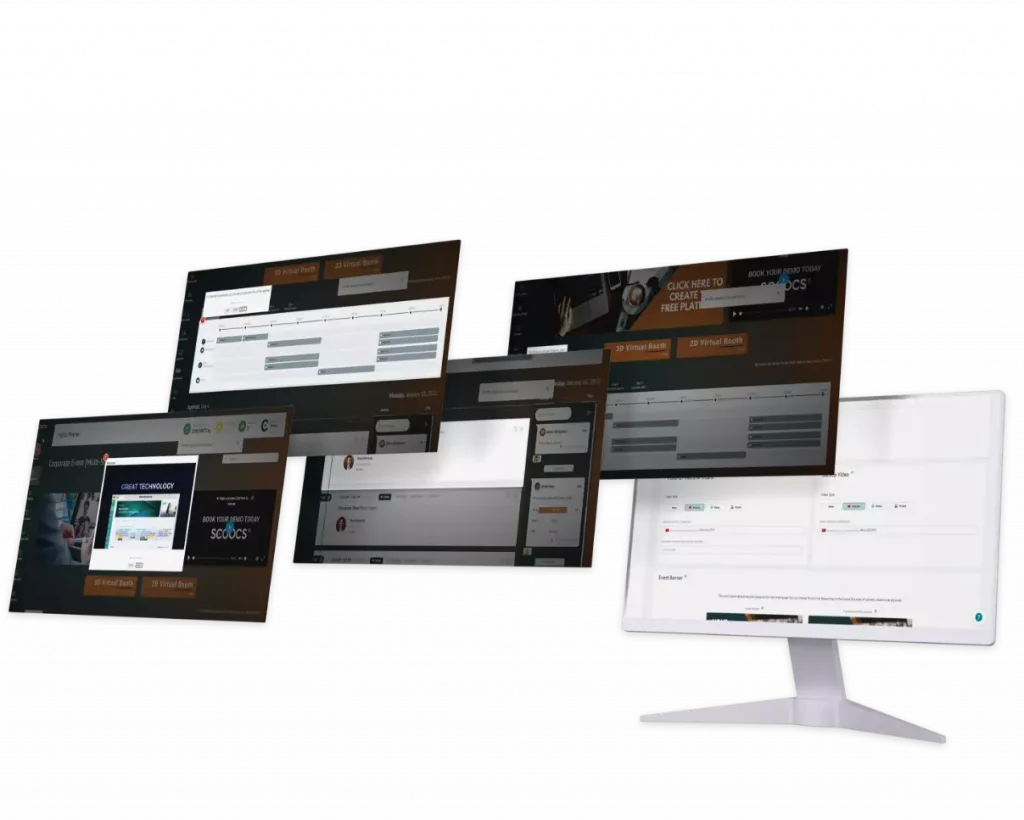 Events such as webinars have been a growing part of your lead-generation marketing strategy, but you are tired of handling all these different tools to have it all on your events. And what if it was possible to have everything in one product? SCOOCS is the answer to this question with all the video, content, networking, and analytics features you need in the same place. Fewer subscriptions to pay, only 1 (easy) platform to learn, more free time, better lead generation, and a CO2 calculator to know your impact. Continue reading to learn how the SCOOCS platform for webinars can help your business thrive.
"The possibilities to customize the appearance of your event are unprecedented. Scoocs enables you to give your event its own identity"
Video solutions for everyone
Whether you would like to use SCOOCS video rooms or go through integration with another software, we have the solution for you!
Build your own marketing events CRM with SCOOCS, or use our integrations for your favorite software, such as Eventbrite, Hubspot, or Marketo.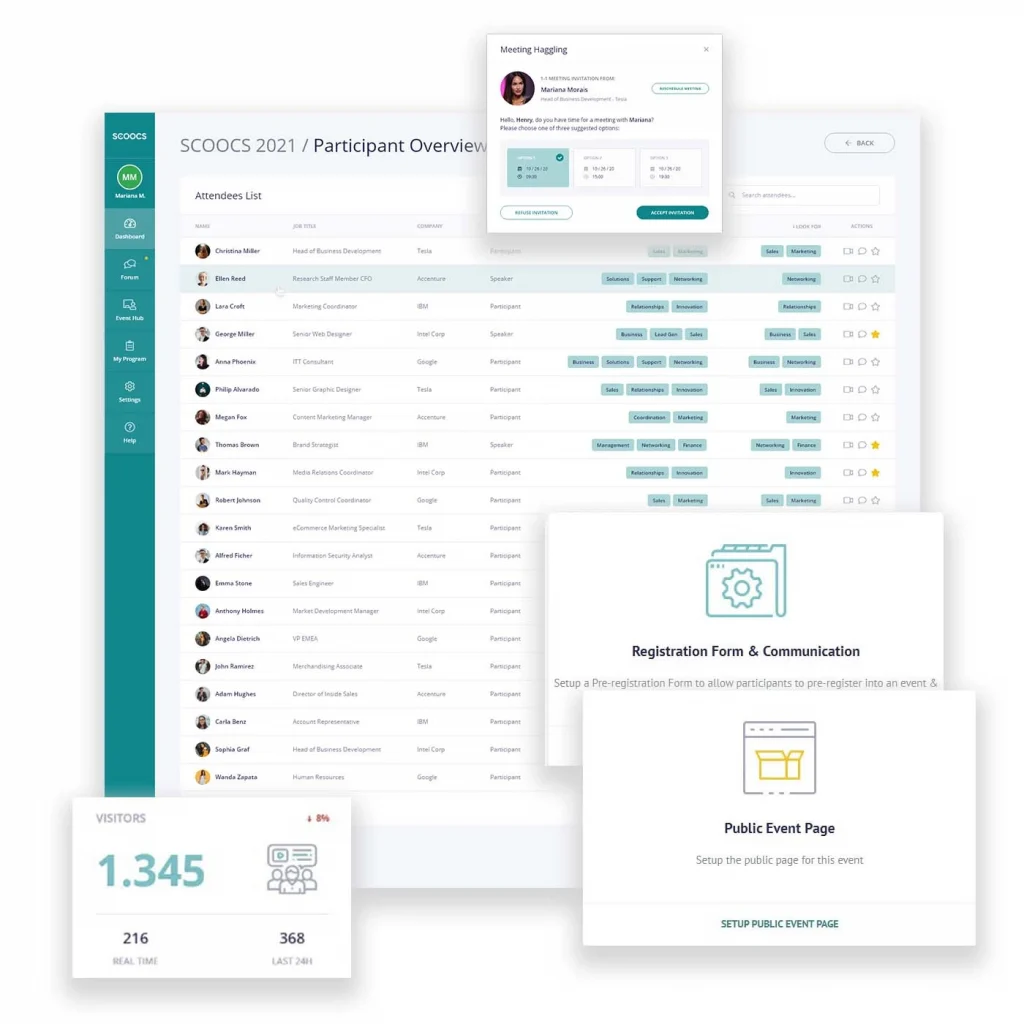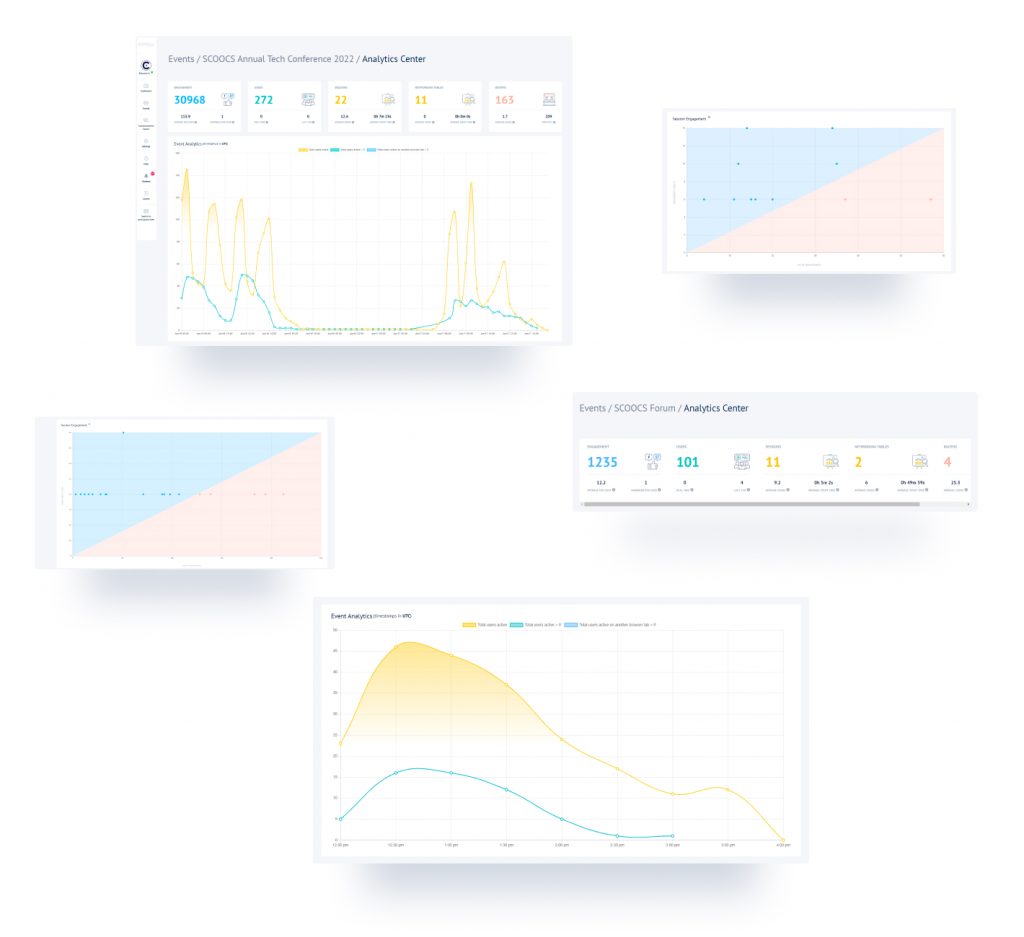 We want to help you to see your marketing results growing up. Use SCOOCS event analytics tools to monitor your events' outcomes.
Check some of the tools of the SCOOCS platform for webinars
Registration and Onboarding
Each event manager has its own preferences on how to onboard participants. Adaptability is our middle name, that's why you will find plenty of tools for your onboarding: insert or modify participants one by one, upload a bulk .csv, or use our integrations with your favorite CRM, such as Hubspot or Marketo. Do you need to save time on this process? Share the SCOOCS native form registration link, and your attendees will register themselves on the platform, after your approval. The best? The form only takes 5 minutes to customize!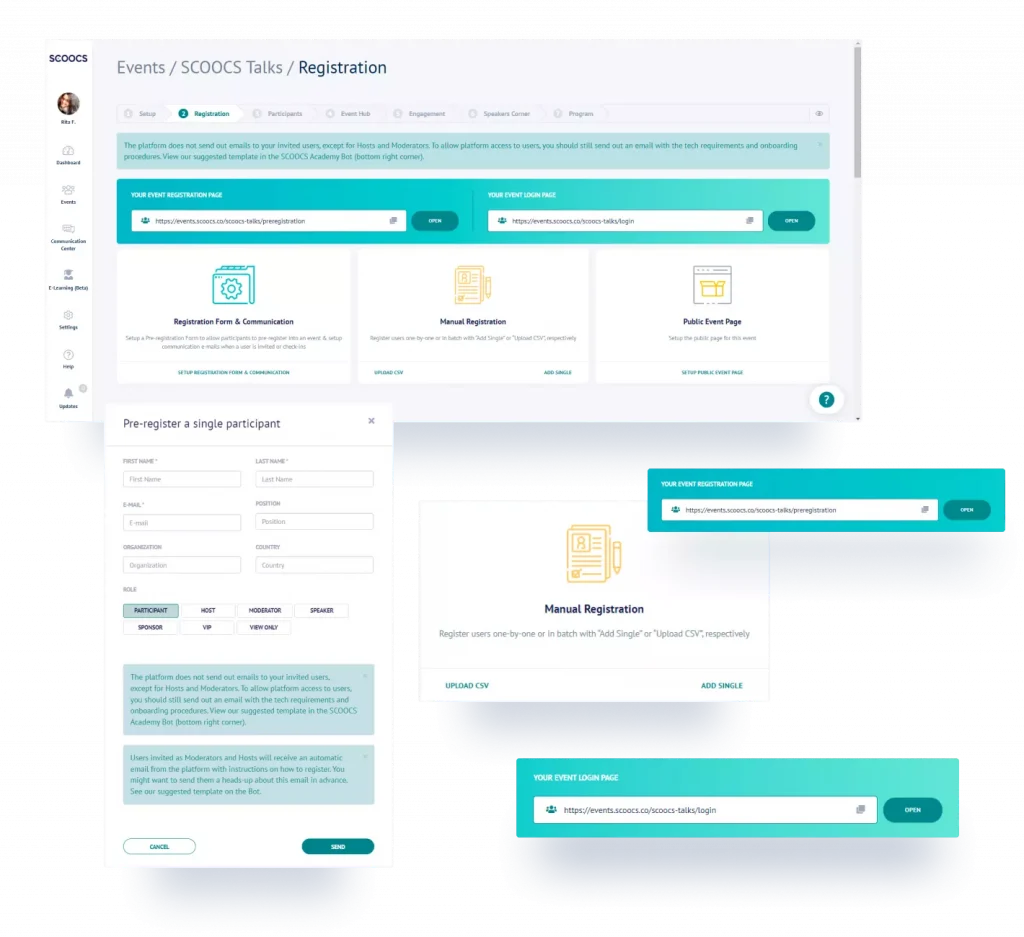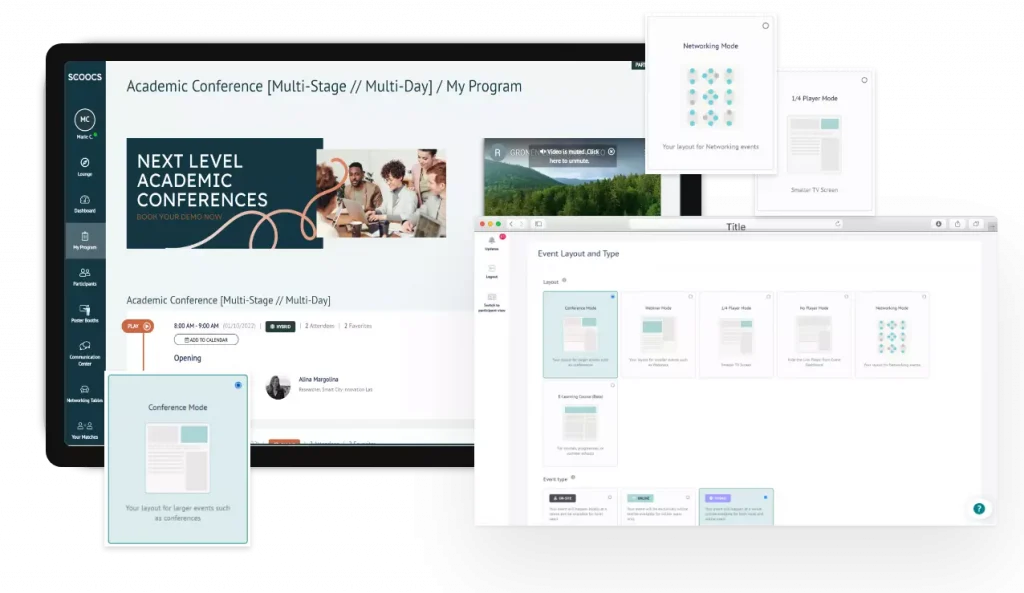 It's not the same thing to host a webinar, or a webinar series and a big multi-day conference. We have created a design layout specific to webinars. The webinar mode will make your attendees focus on the video content.
As a marketer you want your webinar platform to help your attendees to keep your brand on the top of mind. It's easy to do so with the design presets: click on a design scheme to choose a preset branding, or create your design preset that you will be able to save and use on all your future events. Do you want to go for the va-va-vum design? Customize your background images, the name, and the order of all the sections of your event modules, show or hide the networking elements you want or even add CSS codes from our CSS library. SCOOCS is a white canvas, and you're the artist. For us customization is not an add-on, you don't have to break the bank to build an outstanding design.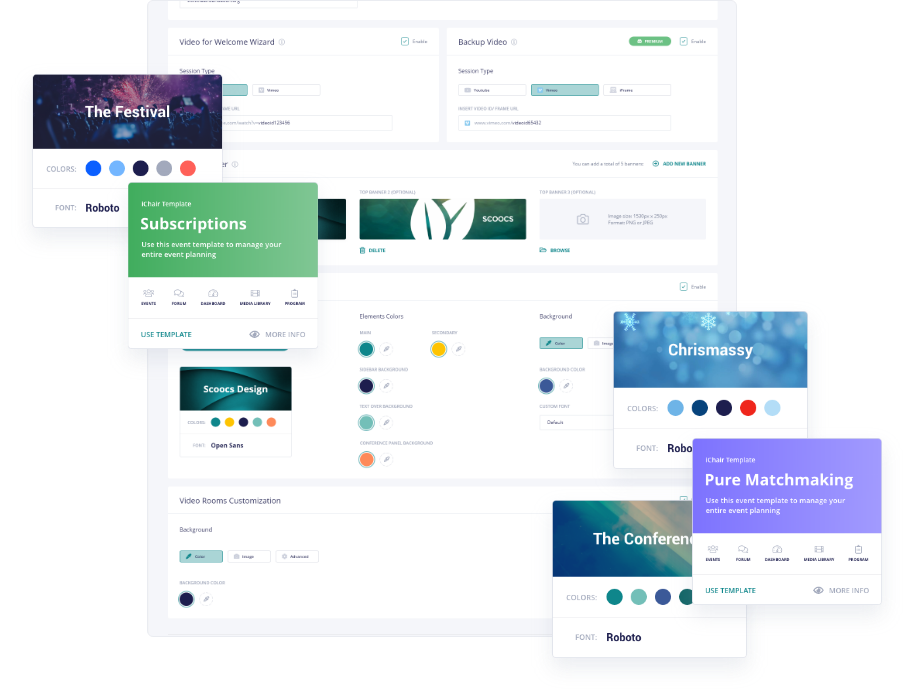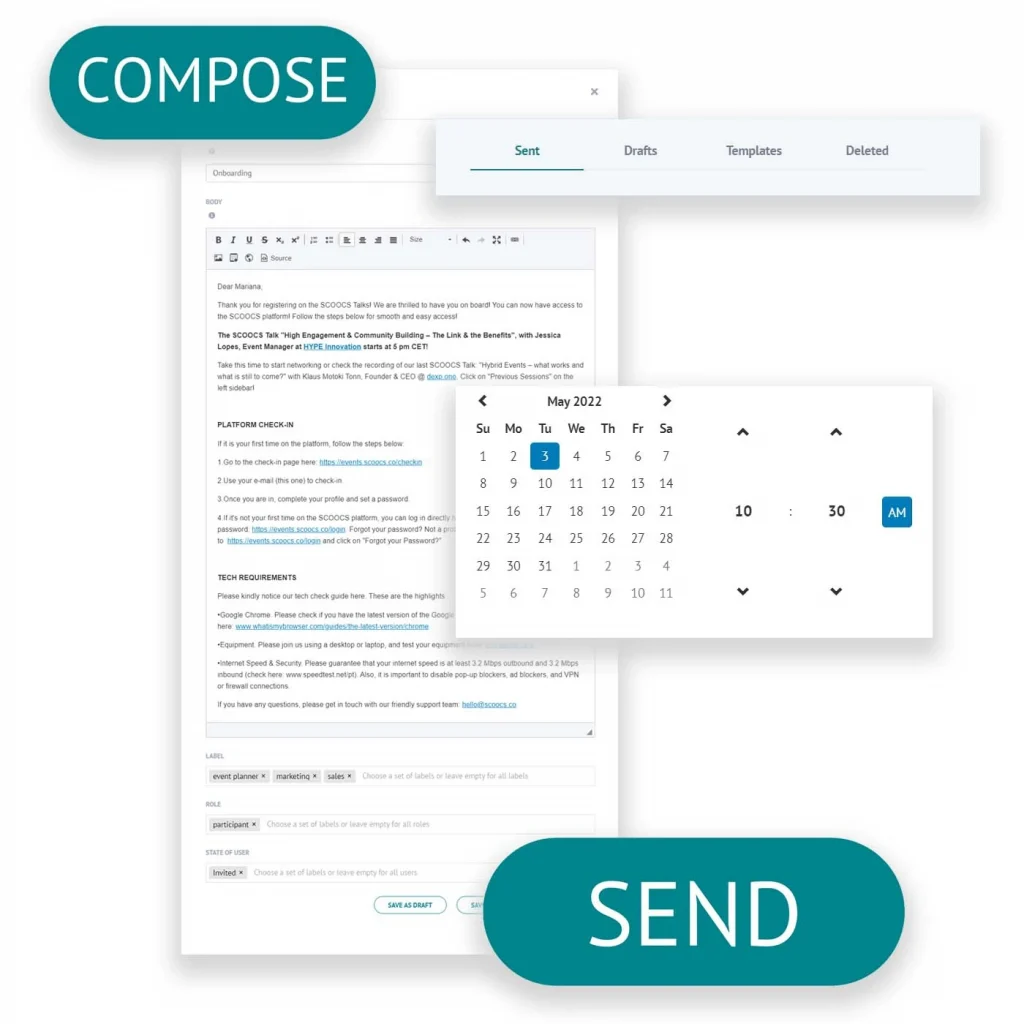 We know the importance marketing has for you. It's one of the most important elements since it will grow your audience, your attendance rate, and your participants' delight. That's why the SCOOCS platform for webinars has several tools to help you with your marketing efforts. Send an automated welcome email to your attendees; communicate with them with an email sequence. Embed your event agenda directly on your website and save time, or use SCOOCS native public event page to advertise your event and let your attendees register automatically on the platform via the native customizable registration form.
Even if most of the webinar attendees will come to attend the video content, many expect also to do some networking and build meaningful relationships. Having a networking moment on your webinar can be an effective way to have more attendees during the live session, instead of only watching later on-demand. Host a lot of amusing activities with the SCOOCS platform for webinars tools: networking tables for thematic discussions, a speed-networking function, a matchmaking feature based on each participant's interest, or even a match roulette, that will randomly match participants together on a video room. Be creative with your networking activities, and find here the tools to take your engagement to the next level.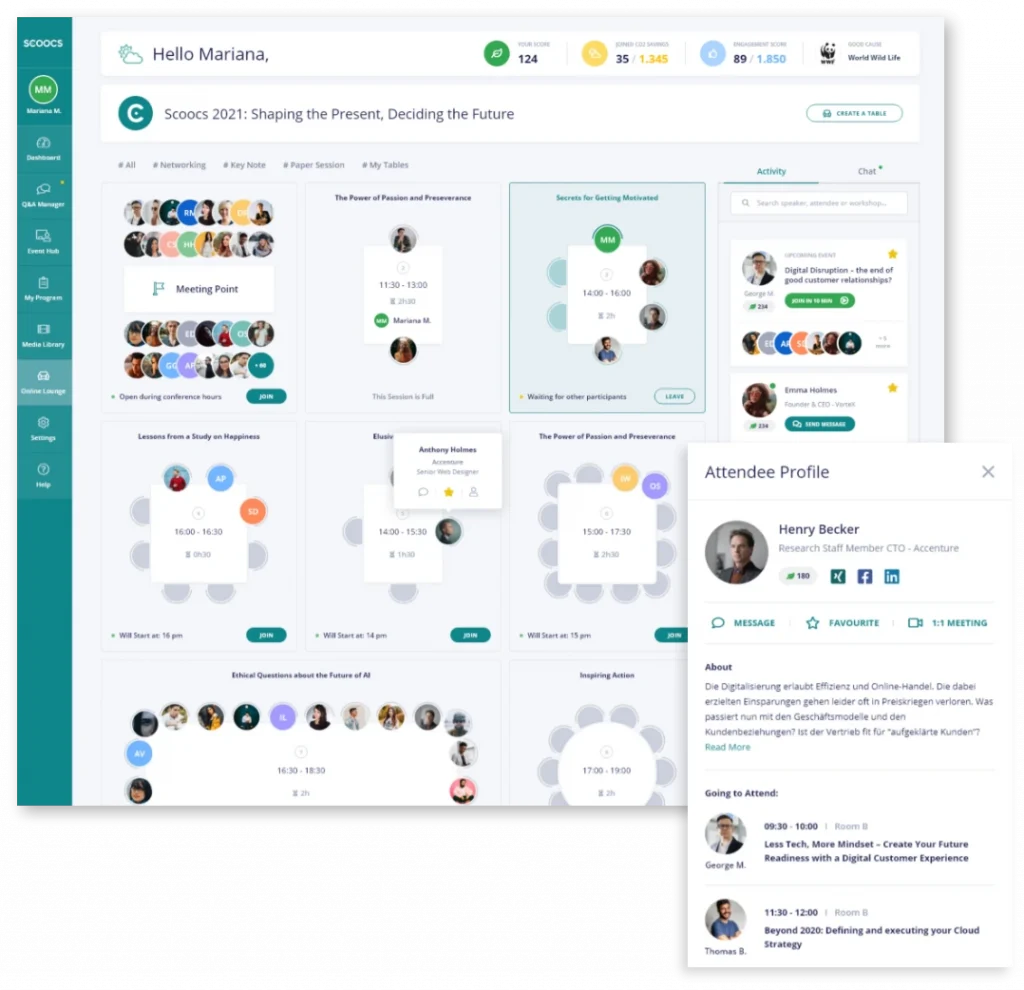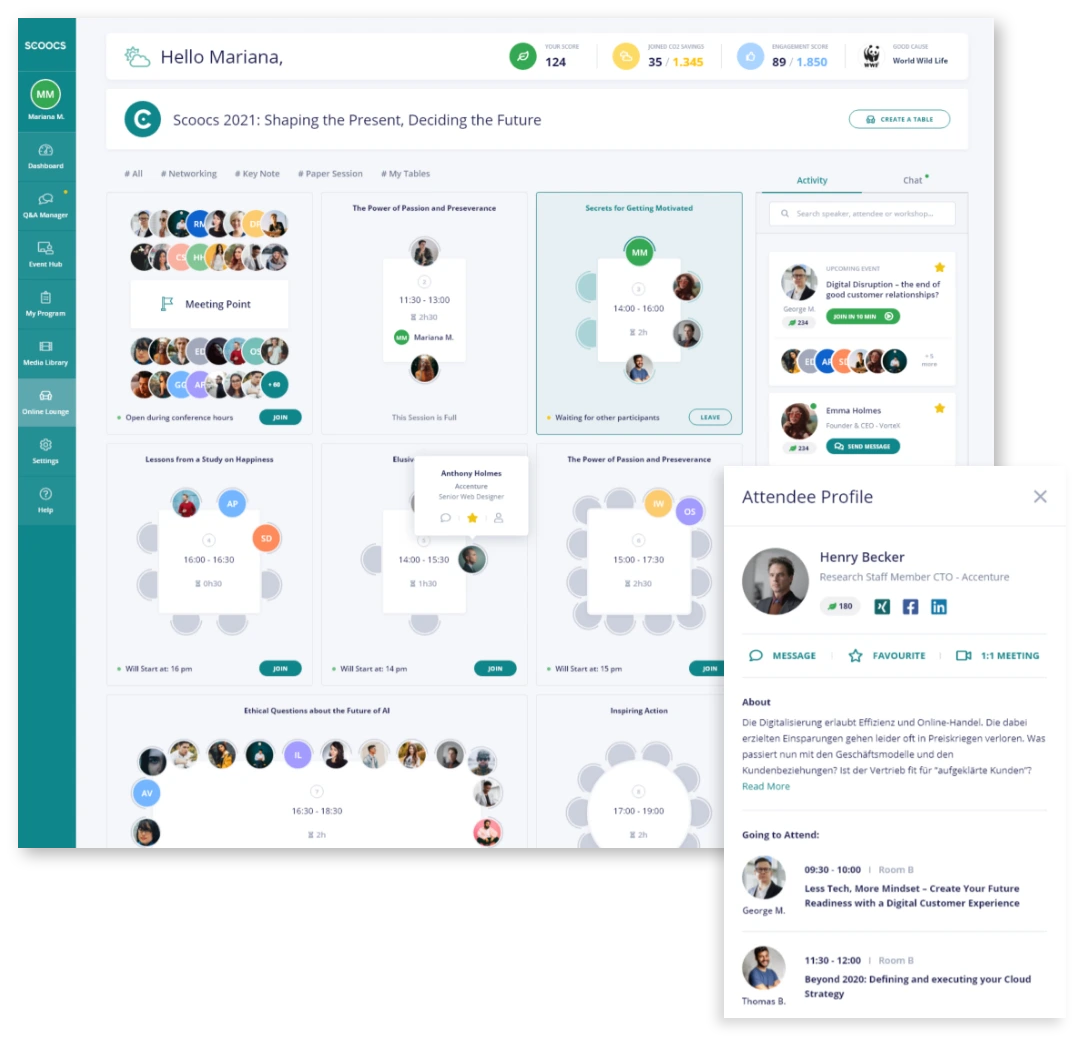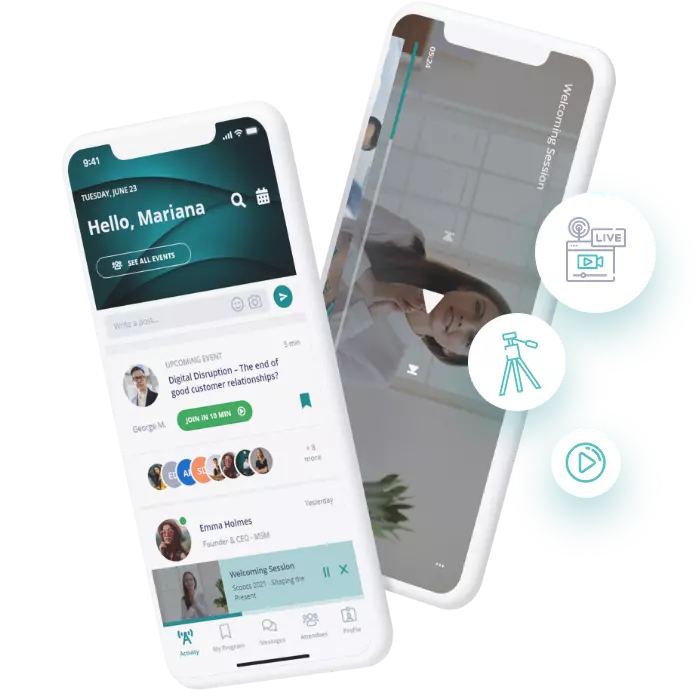 You have been running your webinar series for a while now, you have built an engaged audience, and you feel it's time to take the next step and build your own professional community. We have some ideas for you! Create a yearly space on your platform with networking tables where your attendees can discuss their favorite themes. Let your attendees be in touch via the communication center or even communicate on the go with the app. All of this is within your branded company platform and app, under European data protection laws. Give it a try and see the results!
Recordings and Media Library
Who speaks in webinars speaks in evergreen content, and that means recordings! Generate leads all year long with your webinar recordings! Download the videos from your SCOOCS platform for webinars, and repurpose the content on a media library, available for your community.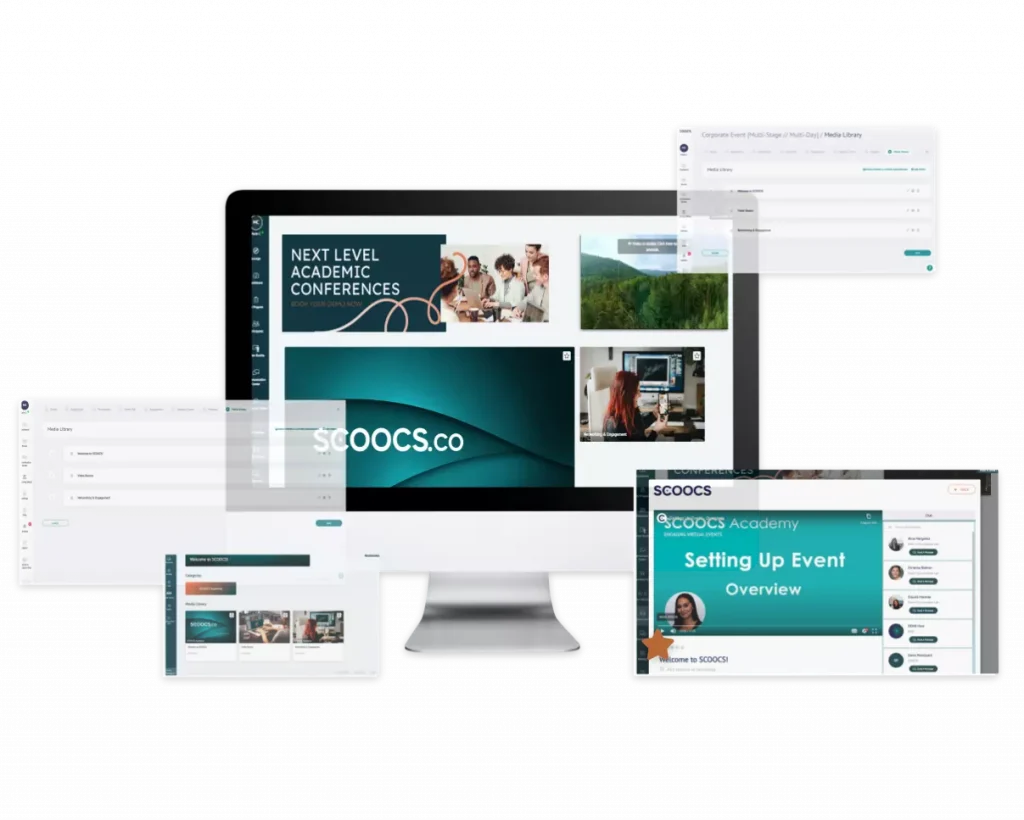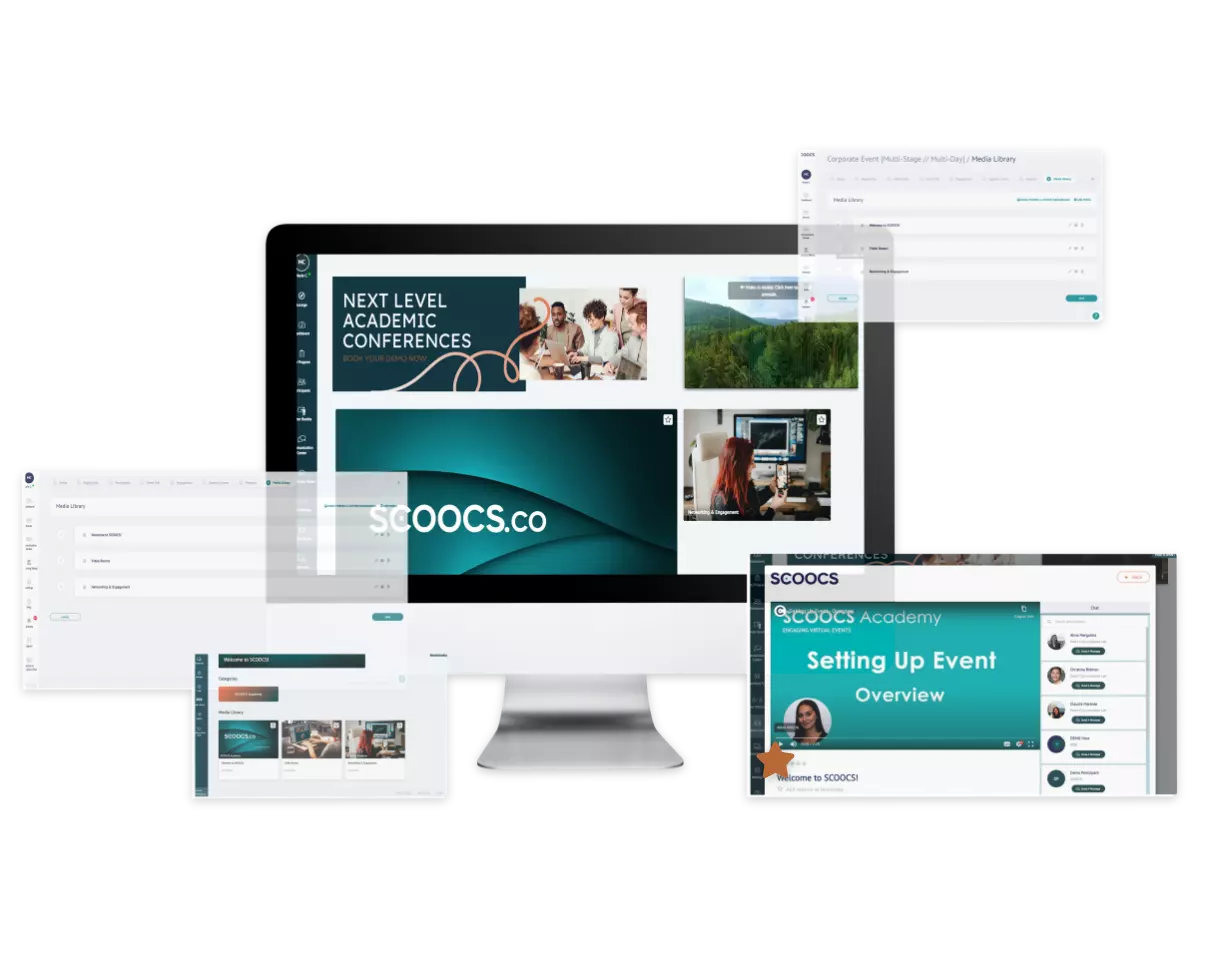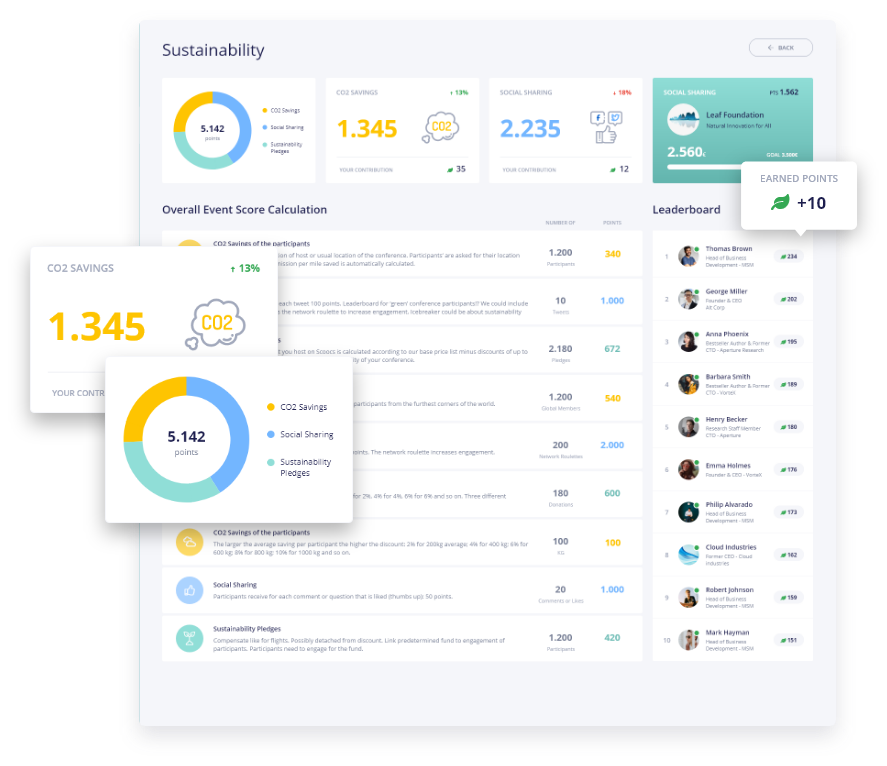 Webinars are a great alternative to in-person short talks: they are less expensive and more convenient, inclusive, and sustainable. With the SCOOCS CO2 calculator, you and your attendees can learn how much CO2 was saved by hosting the event online.
Click on this button to book a demo with a SCOOCS Team member.
Get to know the platform and have your questions answered.