SCOOCS for Lead Management via Virtual Events
Lead Management is one of our clients' major needs. That's why we created a set of tools that will help you to attract, manage, convert and communicate with your leads. Attract your leads with the public event page, create registration forms with multiple custom fields to qualify your leads. Manage the relations with your leads with the event labels and download options. To communicate has never been so easy: just save your favorite templates, create lead groups, schedule and automate your emails! And, of course, have access to your data with the integrated analytics module: understand your actions for improved decisions!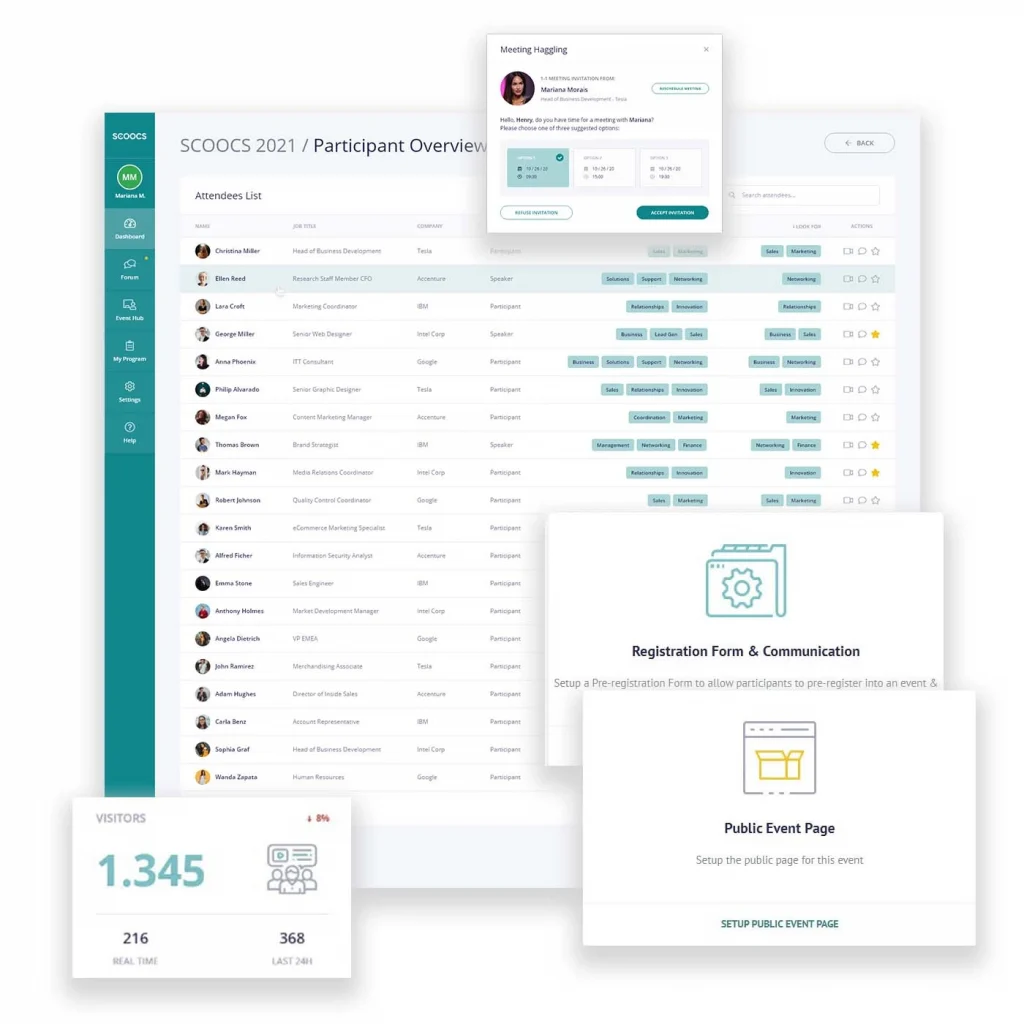 "The setup from the platform was really easy. It is possible to set up an event with more than 20 sponsoring booths and 3 stages in a few hours. Our Attendees loved SCOOCS as well."
Features for Lead Management via Virtual Events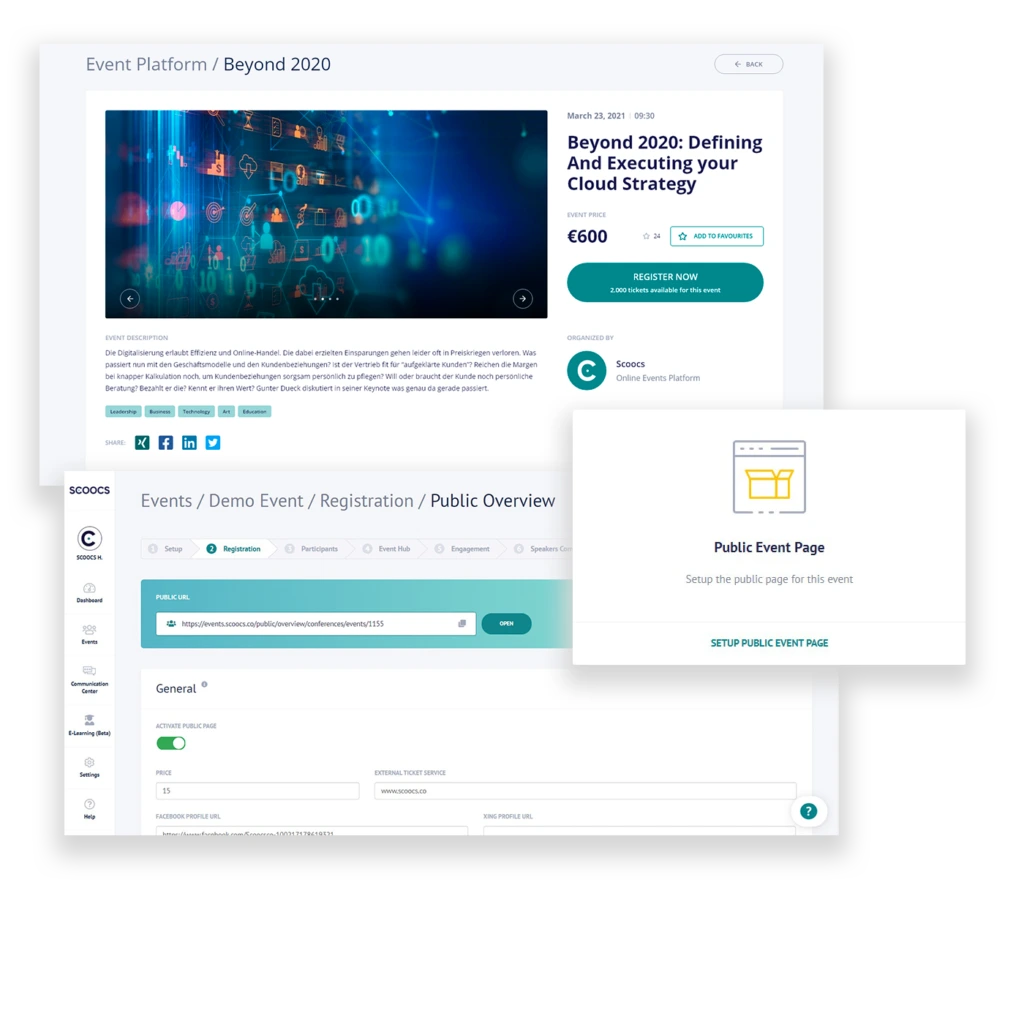 Enter an image and a description for your event. Add a video, your social media profiles, and enable the options to show the CO2 savings and the external agenda. You can also add the event price and a link for the event ticketing service. Check the results on the public link, and voilà! Your event is now ready to meet the world!
Registration Form with Custom Fields
With SCOOCS it's very easy to create a registration form in minutes. Add you banner, description and create your own custom fields. You can choose between different formats: text, checkboxes, or dropdown menus! Customization? It's all up to you!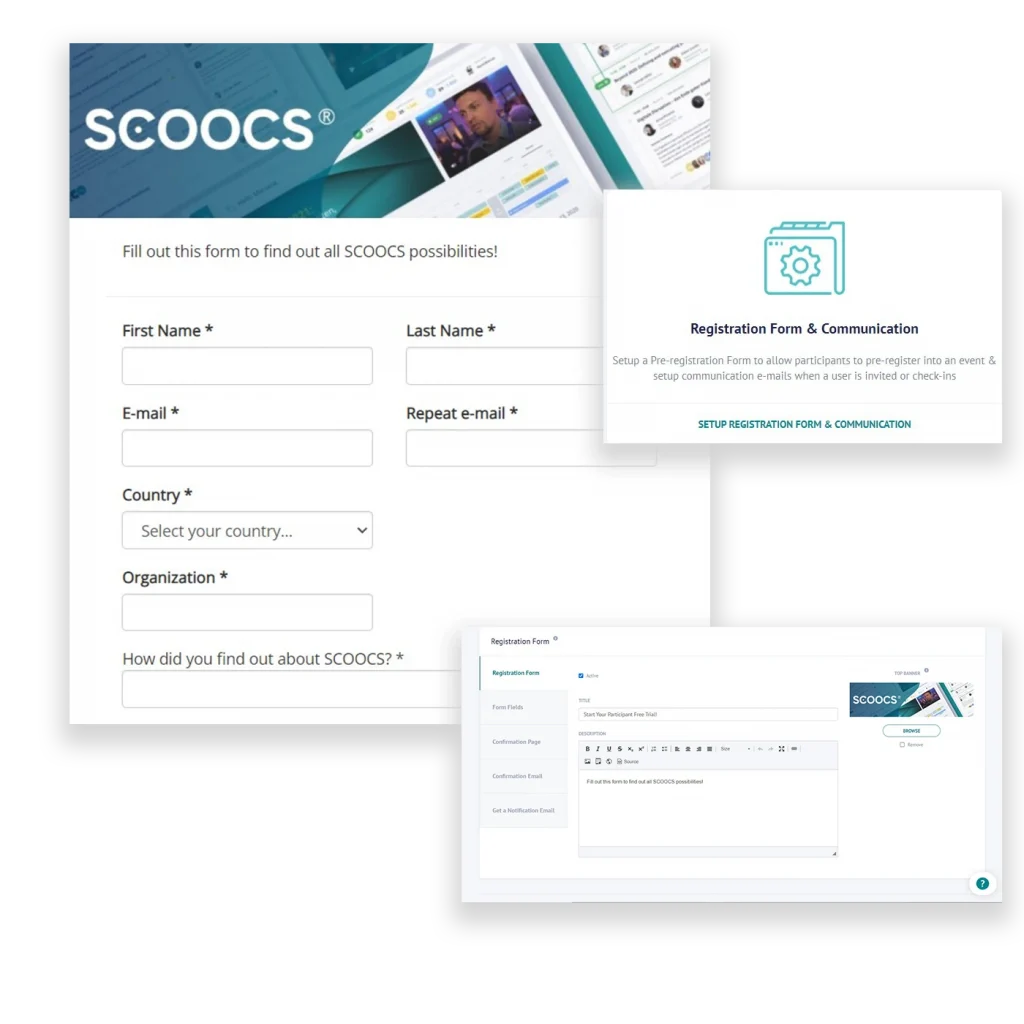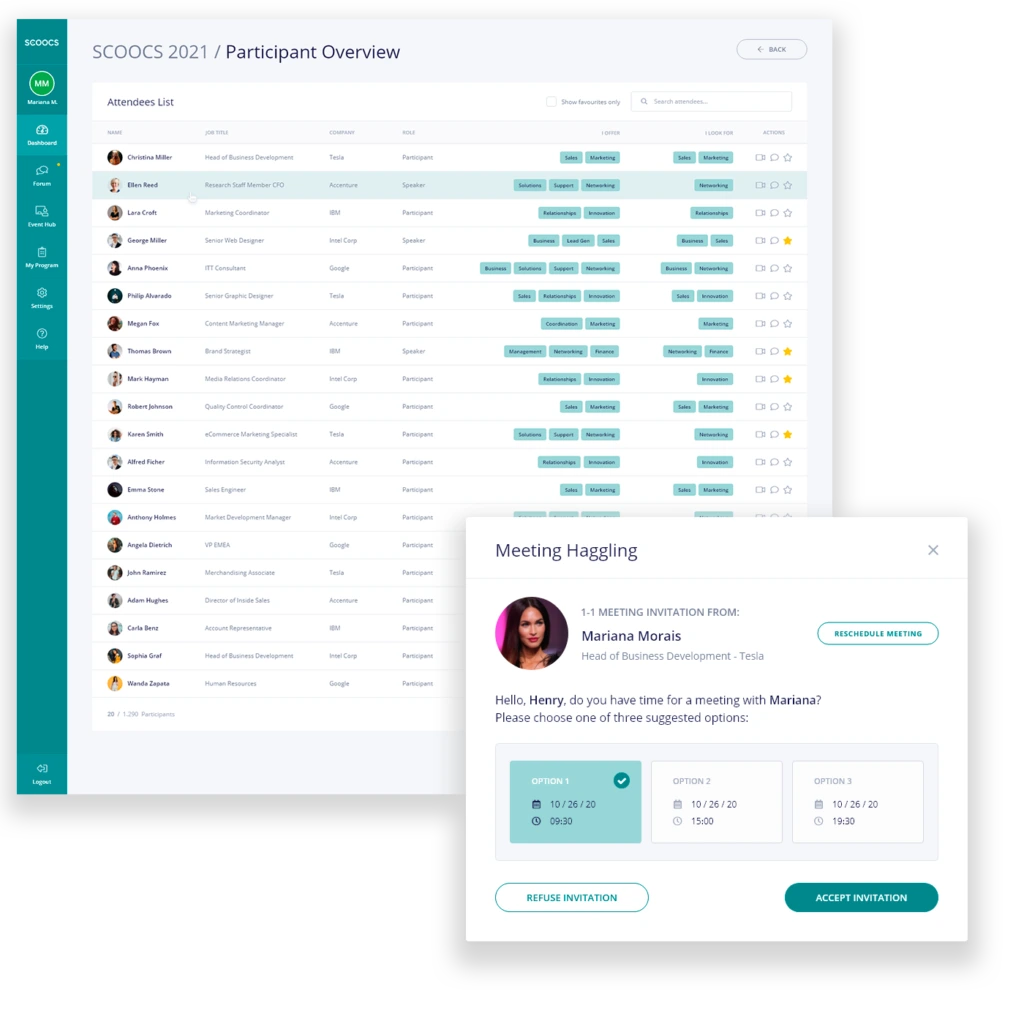 Manage and qualify your leads with the integrated labels! You can also download an excel file, and book appointments and meetings with your leads and send private messages within the platform! 
Write emails, work on drafts, and create templates to quickly send to groups of users based on roles or labels. With our communication center, you can also manage multiple public, private, and 1-to-1 chats across events and sessions in one place.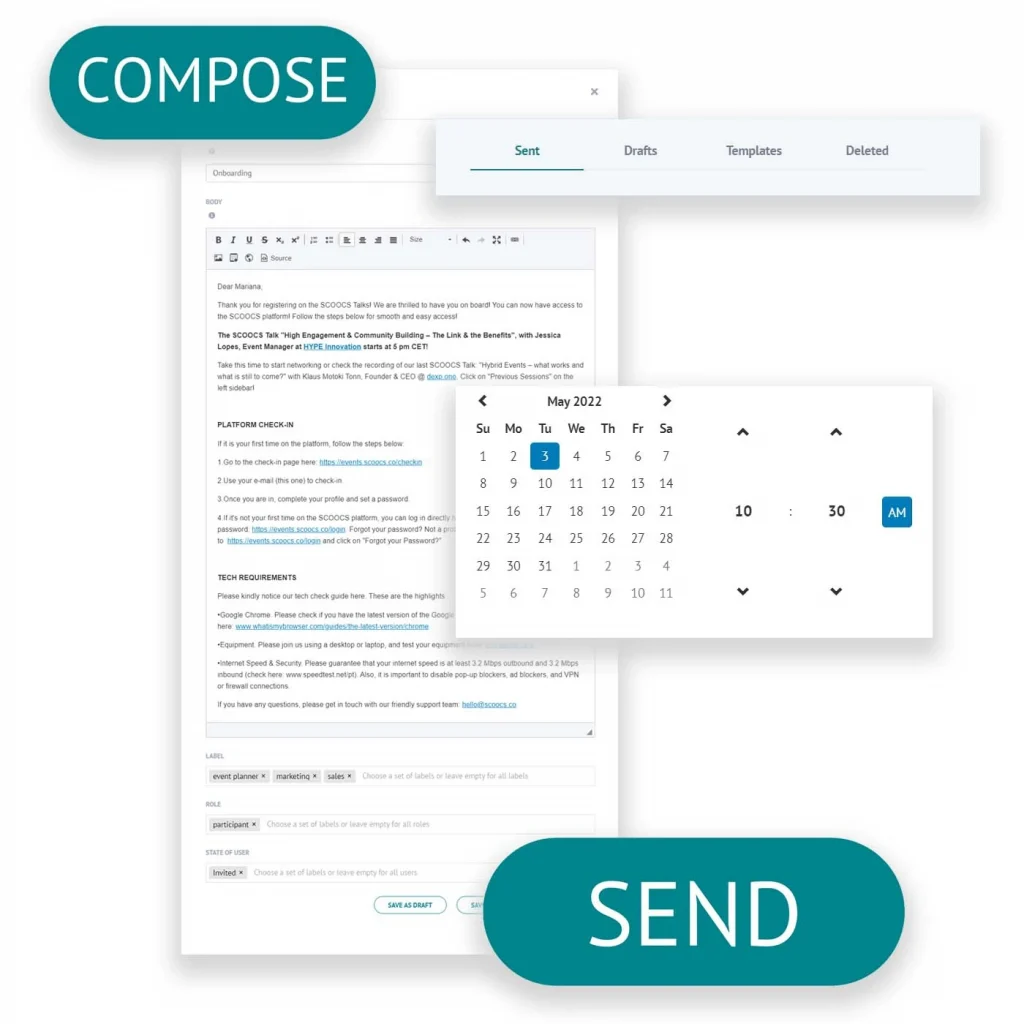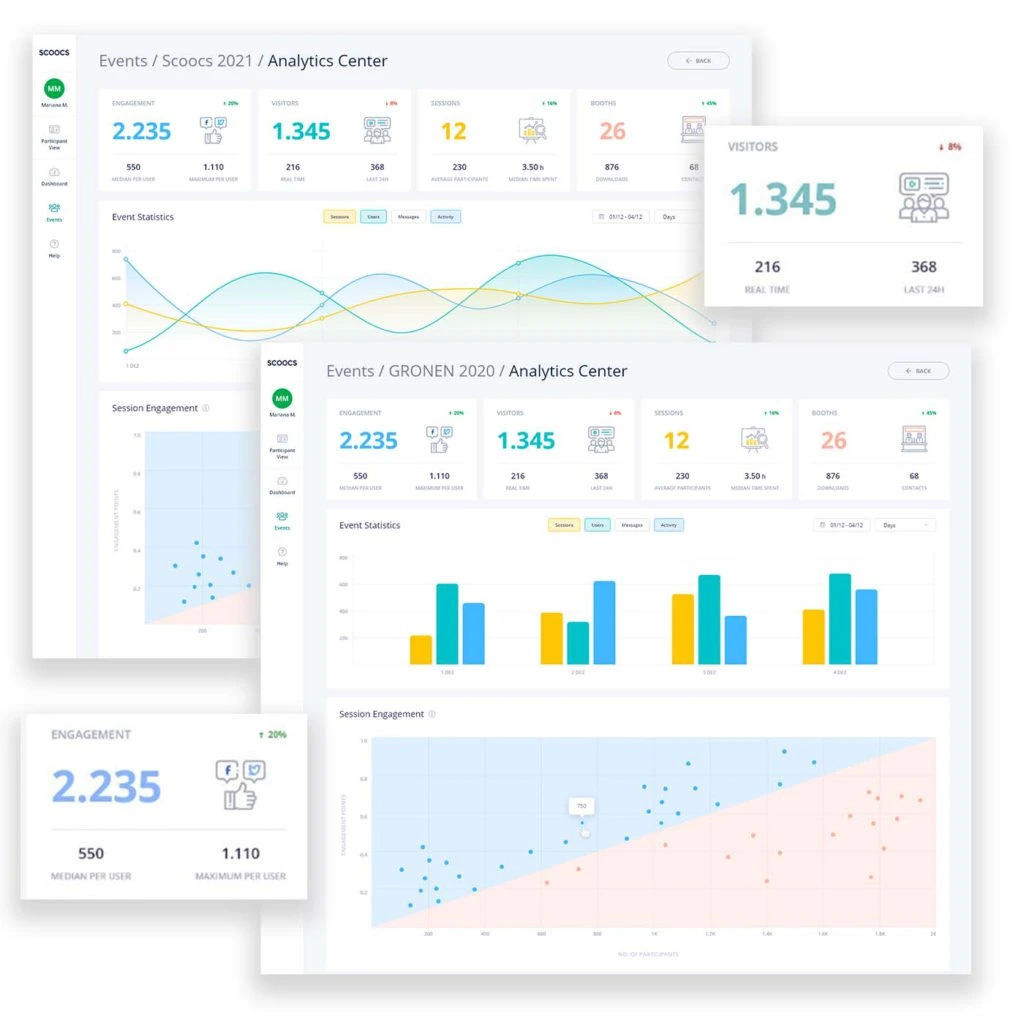 Analytics For Hosts and Partners
Analytics are crucial to understand your business and the effectiveness of your actions. With the analytics module, you will have the data you need to make the best decisions! We have several reports that will allow you to deeply understand your leads' motivations. Some of these features can also be shared by you with partners and sponsors.
Ways to use SCOOCS Lead Management via Virtual Events
Virtual events can be one of your biggest lead sources. Find here some ideas and inspiration for your next events! Learn how to take out the most of SCOOCS features for your lead generation and management activities!
According to the study "Webinars as an effective marketing and sales tool", webinars are one of the most used marketing tools. Companies that use this lead generation strategy, improve their brand awareness, brand authority, and their leads and customers loyalty.
Webinars are a great way to educate your audience and nurture a community, and hosting them on an all-in-one platform is an added value. By creating networking moments with tools such as private messages, 1-1 meetings, networking tables, or the match roulette, you can create a global experience for the user. Webinars can also be very cost-effective, once you can have a mix of recordings and live Q&As and networking moments.
Use labels to segment your leads and send customized emails after the event and analyze your results with integrated analytics. Position yourself as an expert in your field and develop better relations with your leads and clients!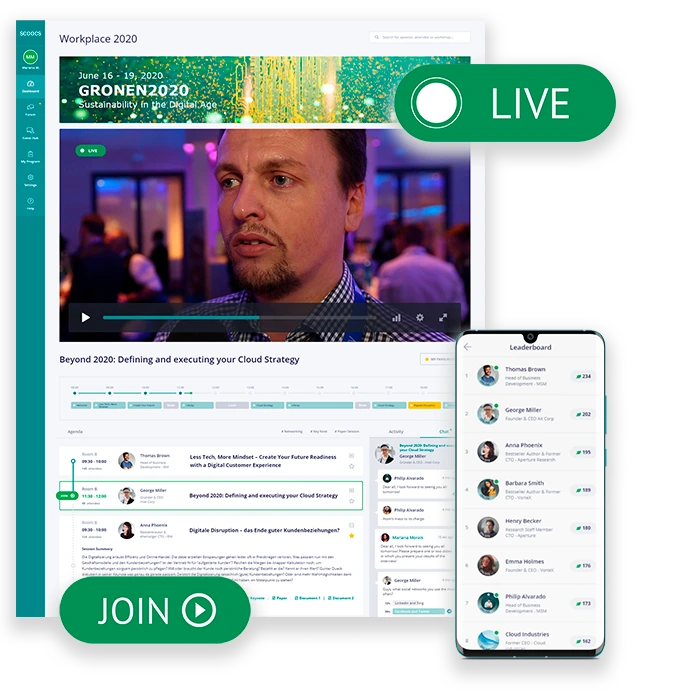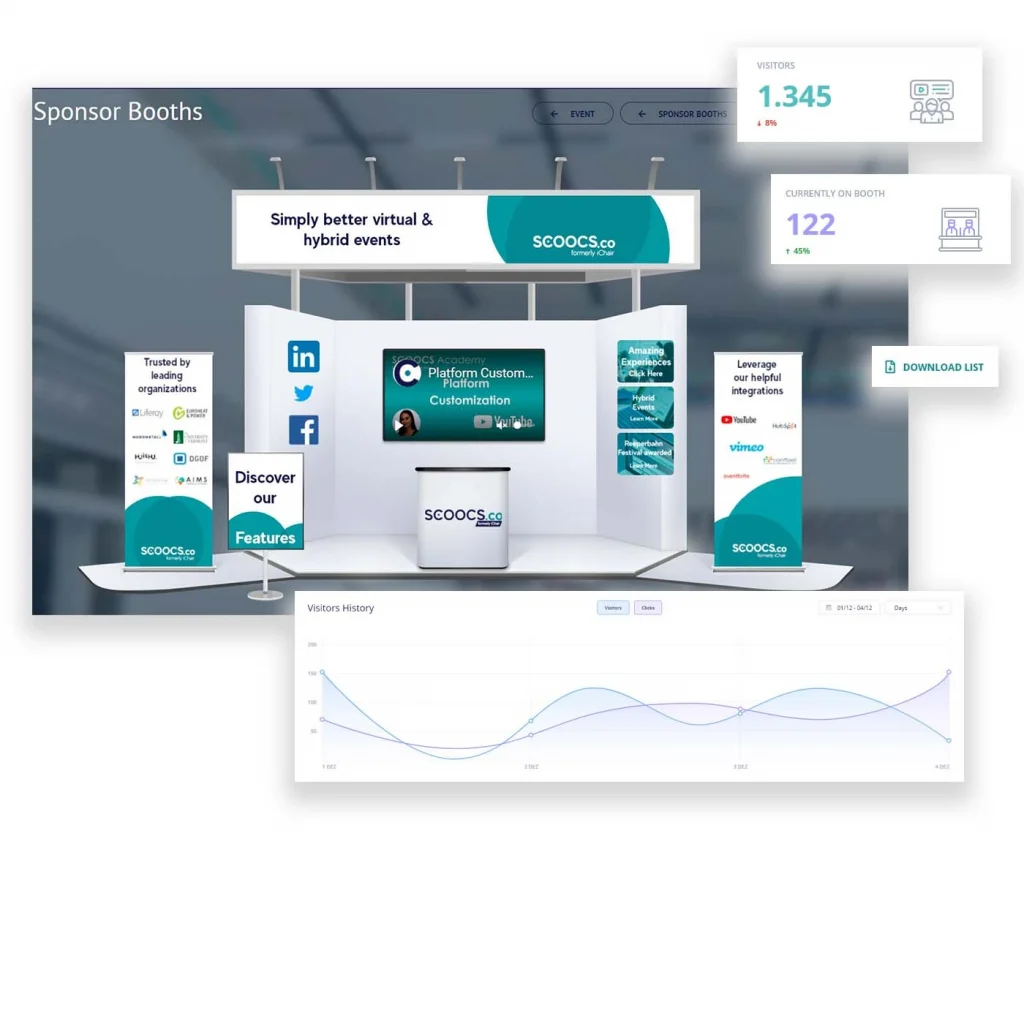 The SCOOCS tools are built having in mind how you can create meaningful touchpoints with your B2B customers. With remarkable customization features, you will be able to showcase your brand in its best light. Customize your colors, fonts, labels, and add your best banners to all the events' pages! Virtual events can help you build a "top of mind" brand. Our virtual booths and 3D world solutions have different options to exhibit your products or partners, with several lead generation and management tools. The SCOOCS team is here to help you to find the right tool to make your event a reality!
Organizing a buyer program is a very effective way of connecting your top customers with your best partners. Both will appreciate doing business in a cost-effective and time-saving process. To do so, you can count on SCOOCS networking tables. Create time-defined thematic sessions integrated on a program only for VIP attendees. Evaluate the sessions' success with your participants' ratings. Or you can also use the curated matchmaking tool, creating a series of random matches that will animate and delight your top attendees!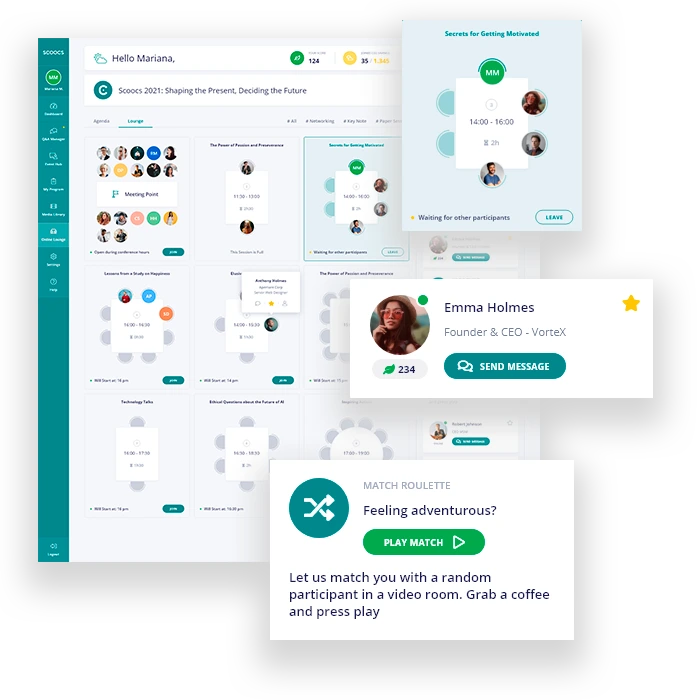 Click on this button to book a demo with a SCOOCS Team member.
Get to know the platform and have your questions answered.