Virtual Business Events with SCOOCS
Virtual Business events have been facing a fast-paced evolution. What started with an urgent need in 2020, is now a very well-organized sector, with more and more sophisticated tools. SCOOCS is proud to be an all-in-one virtual business events platform, with cutting-edge technology, captivating tools, and a caring and supportive team that is always there for you. Why do we know our tools are valuable? Because they were built in collaboration with the best event managers, and with them in mind. Find here how we can help you leverage your virtual business events!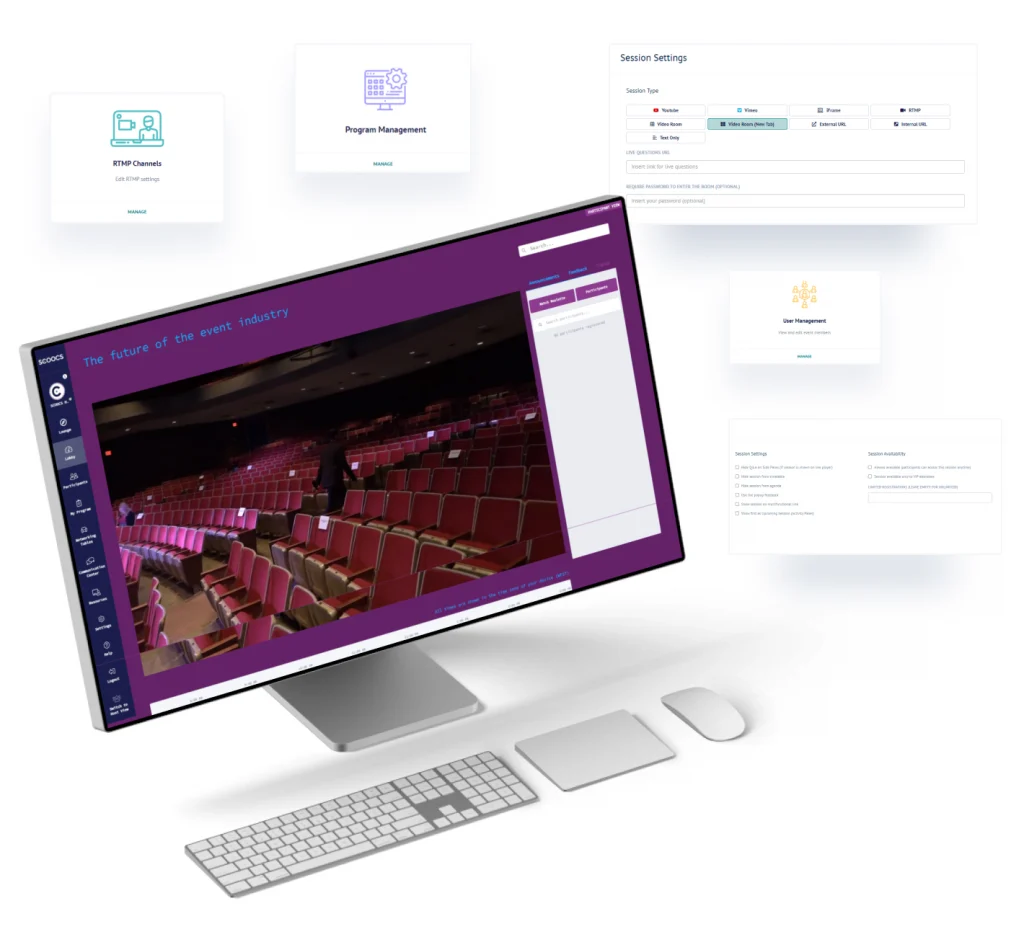 "The setup from the platform was really easy. It is possible to set up an event with more than 20 sponsoring booths and 3 stages in a few hours. Our Attendees loved SCOOCS as well."
Features for Virtual Business Events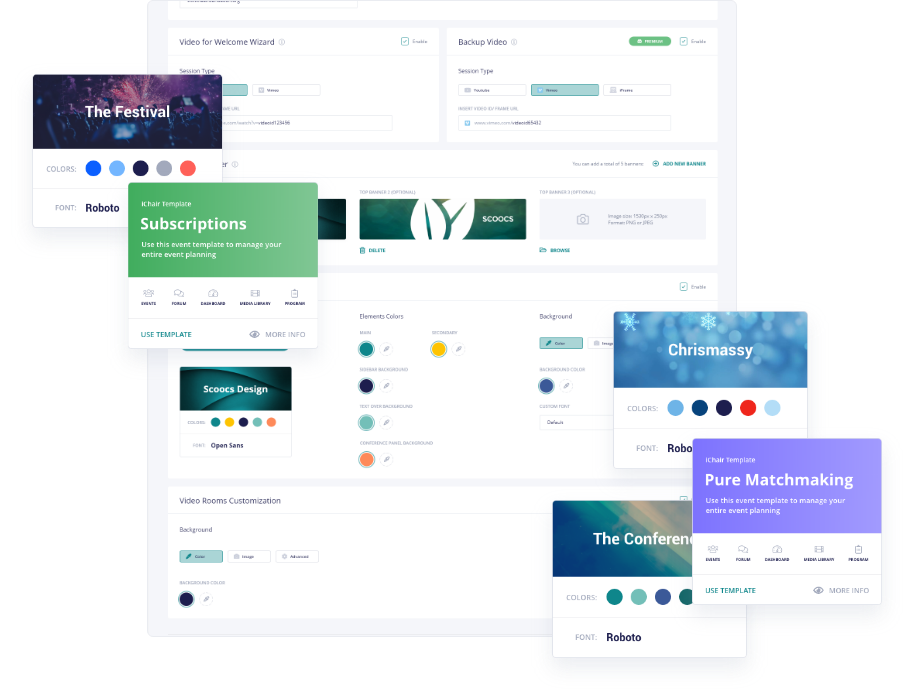 SCOOCS customization features are unprecedented. You can customize colors, logos, fonts, favicon, and labels. You can even embed custom elements and your own CSS code. Our platform is almost a white canvas, which you can customize as you wish!
Organizing your sessions is easy with our video rooms for many-to-many sessions (i.e. conferences, webinars) and streaming for one-to-many sessions (i.e. panels, keynotes). We can also provide a professional broadcasting service for your streaming sessions. Impress your attendees!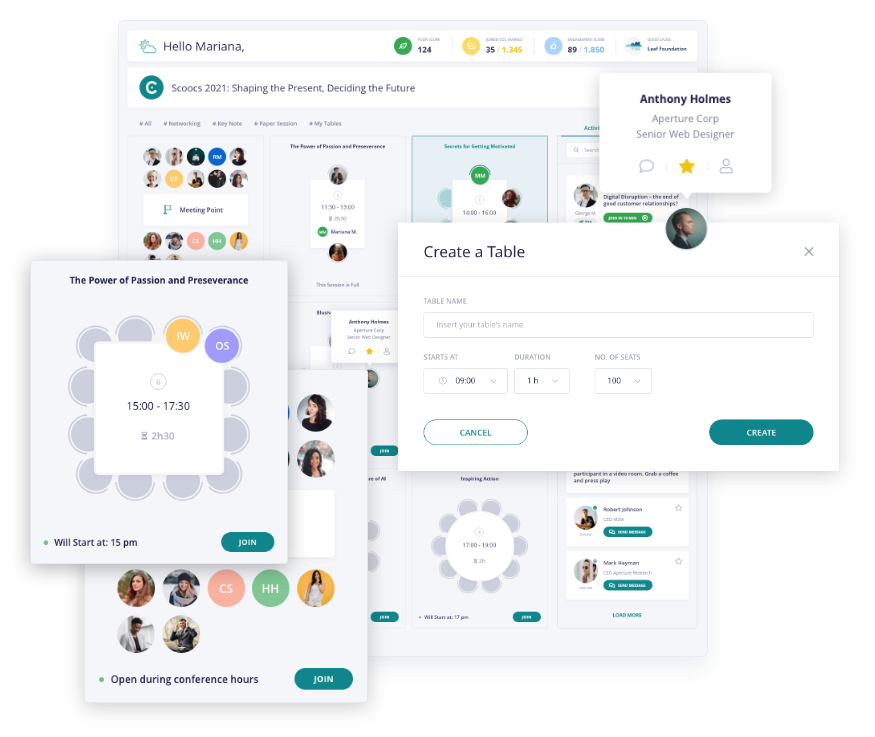 If you think that virtual business events can never outstand the in-person ones, this feature will make you change your mind! Our networking tables will give you the feeling of entering a room, and being able to see immediately all the tables, who is in which table, and what's being discussed in which table. Isn't this better than an in-person networking moment?
We invite you to try out our new poster booths feature where you can allow your poster presenters to set up their own booths in minutes and also benefit from dedicated networking tables to discuss each poster!
Display your papers in an embedded .pdf, and illustrate your research with infographics, data boards, images, or videos. You can also embed a social media feed, a podcast, or another iFrame that will enhance your visitors' experience.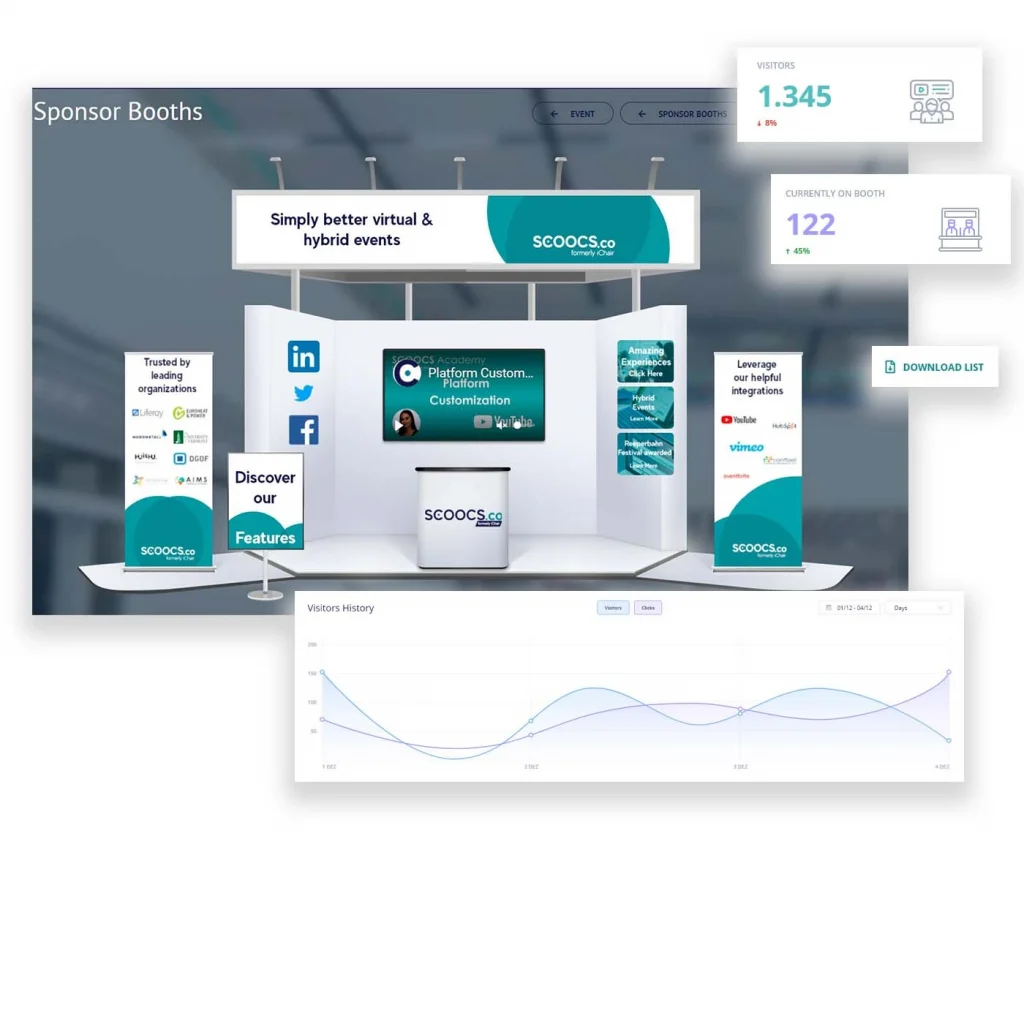 Ways to use SCOOCSVirtual Business Events
No matter the format of your virtual business event, our platform can be adapted to fit your needs!
Virtual webinars are a good way to engage and acquire new business leads. Whether your goal is lead acquisition, lead nurturing, or simply to provide some education to your teams or clients, we have the right solutions for you. Create an engaging experience with our video rooms: make polls, use the whiteboard or make different reactions to the speaker. You have recorded content that you want to reuse? Not a problem, use our Media Library to create your own academy! And the best? Everything will be easily set up in minutes!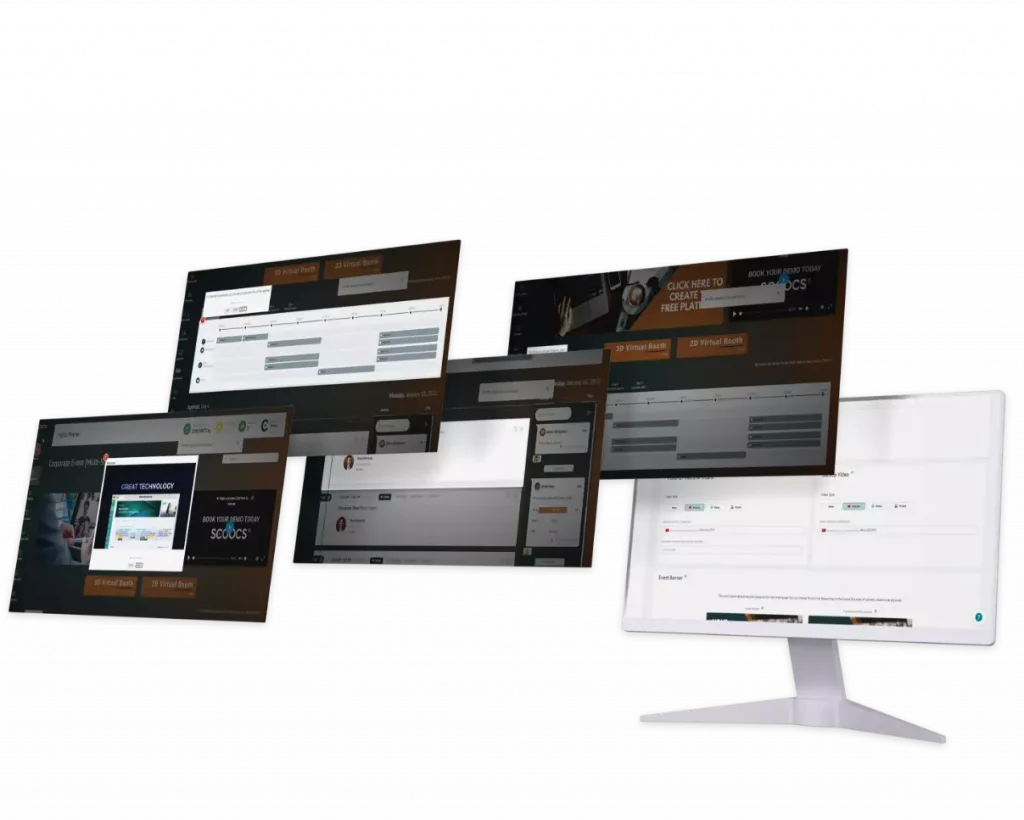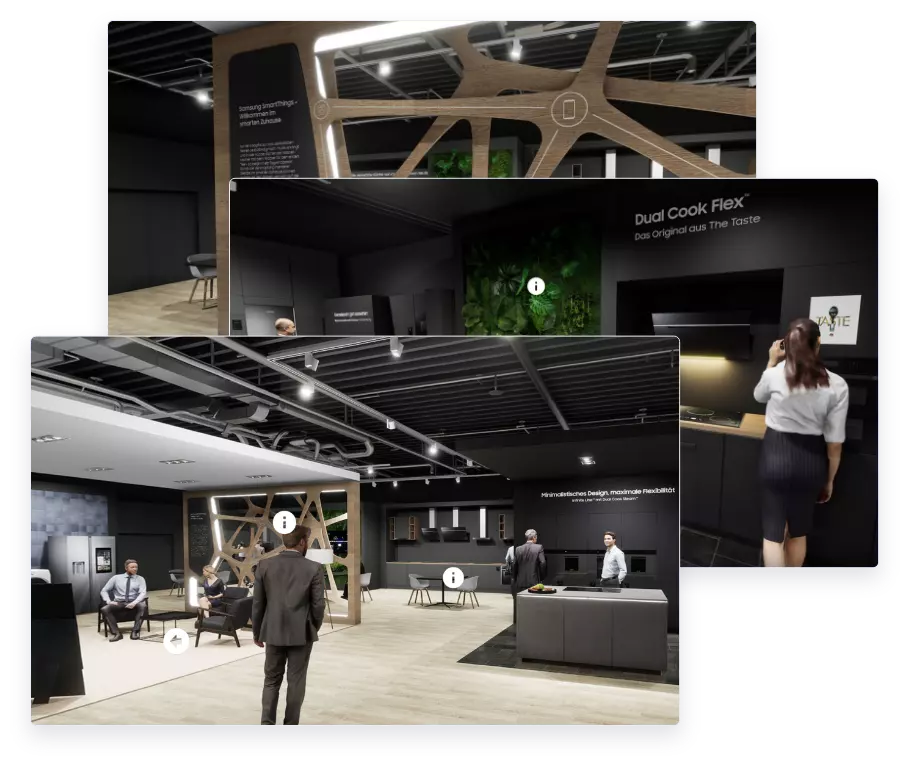 If you want to skyrocket your virtual business event sales, you have to try our 3D world! This truly immersive experience has really the wow factor! Amaze your attendees with an immersive and interactive product display. Your attendees can click, walk around and visit a true exhibition! Provide a dazzling experience to your attendees, and boost your sales!
With our poster booth feature, you can give your exhibitors control to set up their own booths easily. They can choose to upload videos, images, and embed infographics, social media icons, and add an iFrame. 
Exhibitors can have 1-1 Meetings and use our video rooms to connect with the attendees, sell their products, and develop a long-term relationship with potential leads.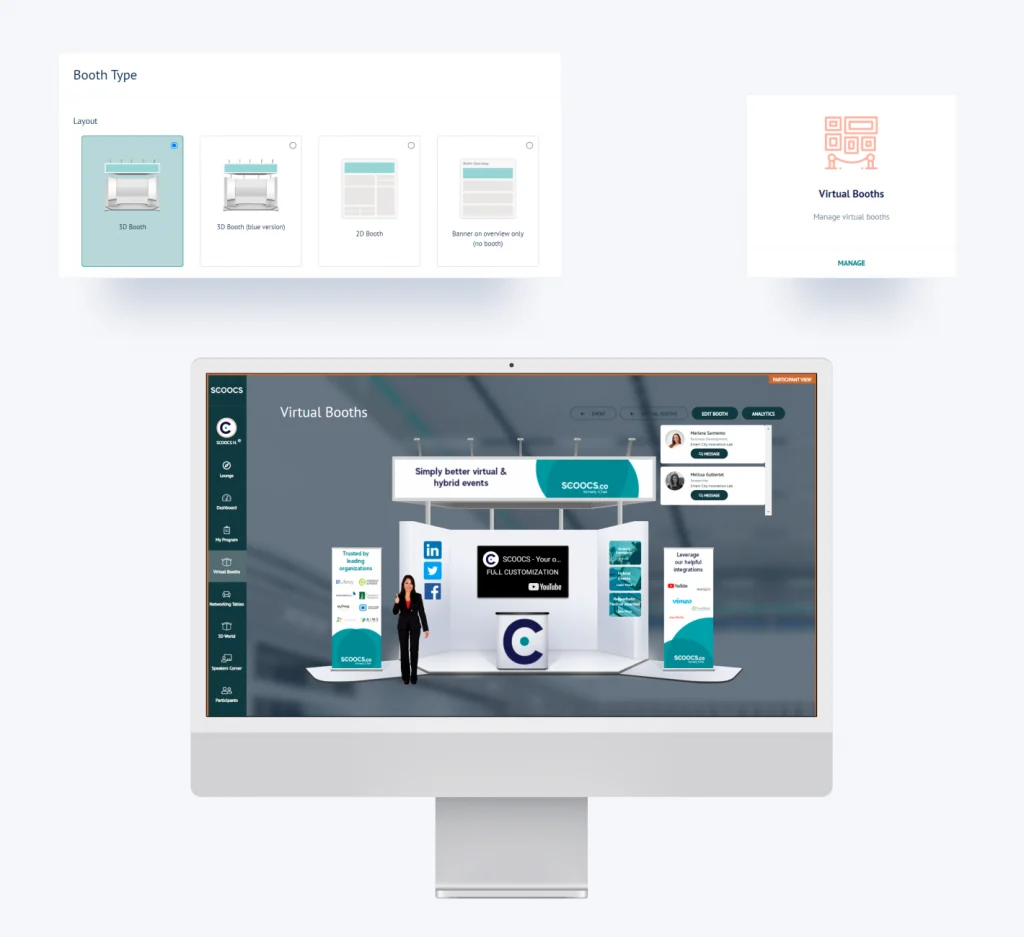 With our features, you can set up an event that will attract buyers and generate new sales. Showcase your product or service with images and videos that can be displayed on the landing page or use the media library. You can customize the platform and make it your own with your brand colors, fonts, logos, and labels. Engage your sponsors with our 2D and 3D Booths, where they can advertise their company and bring more visibility to your event!
Promoting your event and encouraging registrations will be important to attract participants to attend your event. With our e-mailing system, you can choose our template or create one of your own to divulge your event. You can target specific participants by selecting the name or the participant label. 
You can promote accessibility and increase your reach by offering content in multiple languages. With our event app, your attendees can access the platform anywhere at any time.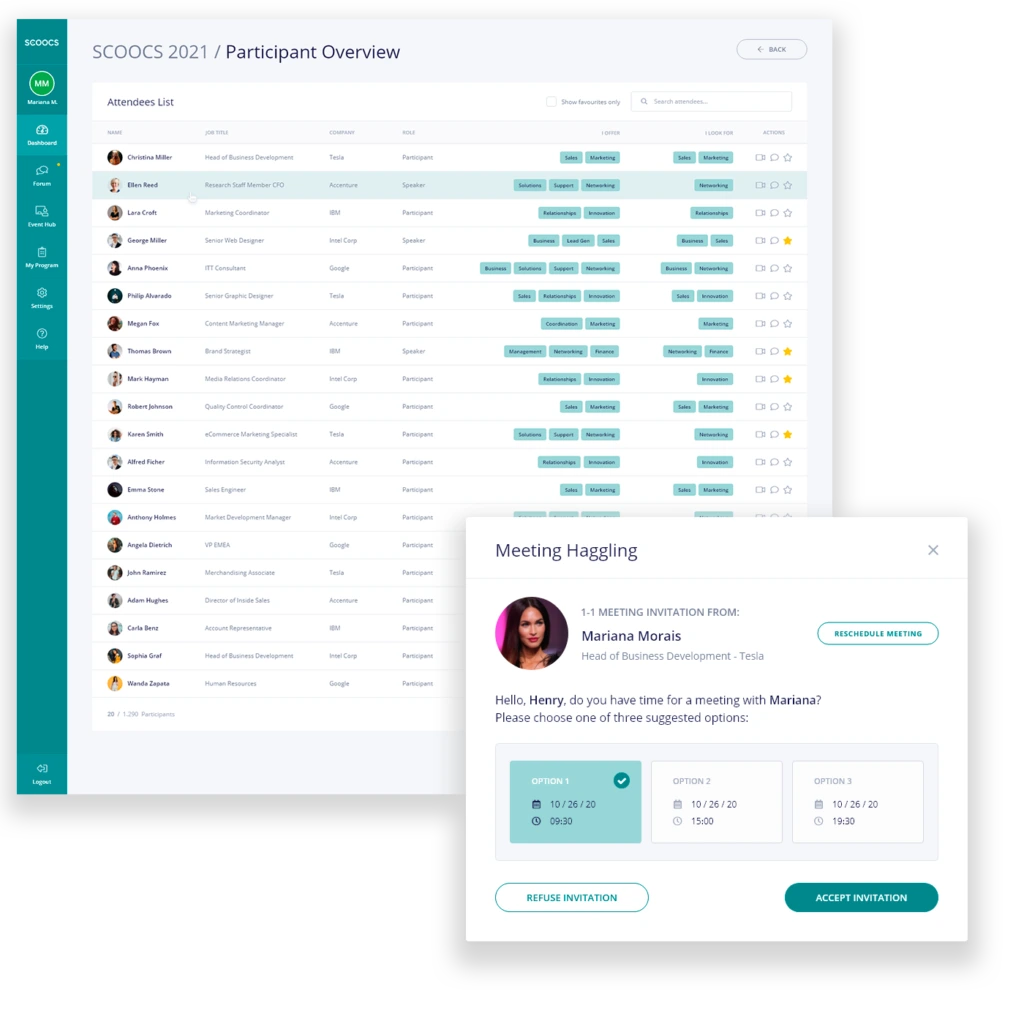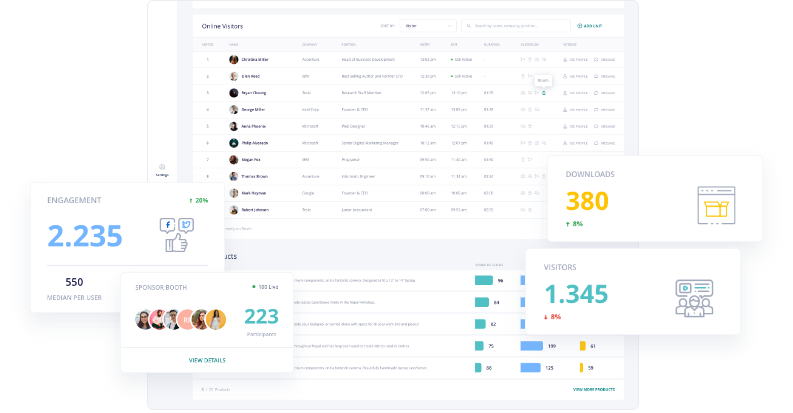 As the go-for all-in-one platform where you can host all your events, SCOOCS is also the place where you can organize your online team games! Do you think it's not possible to have fun team moments while working remotely? Well, you are wrong! Our matchmaking tools will help your different teams bonding and having fun together! Just press a button of our networking roulette, and be matched in a video room with another person sharing the same interests! Make it even funnier with the advanced matchmaking: the random sessions will have a limited duration (the one you will define), and that is the time you will have to solve a challenge together! In the end, check our gamification board and reward the most engaged attendees!
Click on this button to book a demo with a SCOOCS Team member.
Get to know the platform and have your questions answered.