7 Steps for the Best Virtual Christmas Gathering
Have you thought about a virtual Christmas gathering? In this short read, Scoocs online event experts guide you through the 7 steps for planning, managing, and hosting a memorable virtual end of the year or Christmas gathering.
Christmas or New Year events are moments to reflect, to come together, and look forward to the future! We help you to set up your virtual event with engaging ideas for virtual Christmas gatherings to create a sense of belonging and joy.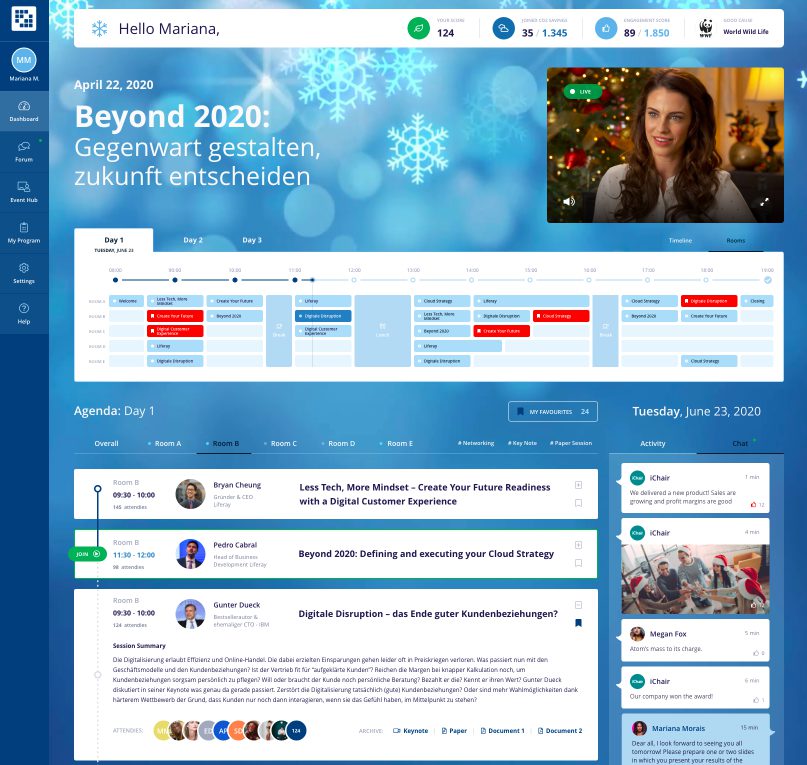 Step 1: Tease your audience with an innovative invitation
Virtual events require you to at least send an invitation with the meeting room link. This is a perfect opportunity for you to exceed expectations by doing something different which will grab your team's attention and start building the momentum for your great event.
After carefully writing your email messages, you can focus on crafting your differentiating invite layout.
Step 2: Welcome your audience to your virtual Christmas gathering
Virtual Christmas Gatherings and End of the Year events are moments for your team to get together after some period apart, meet people they don't know or don't have access to on a day-to-day basis, and catch up with those they haven't seen in a while.
Bring your team together in a contextual Meet & Greet environment a few moments before the official kick-off is a best practice in the industry and usually results in more engagement for the moments that follow. Are you in need of some inspiration to make your online event more engaging? Check our tips!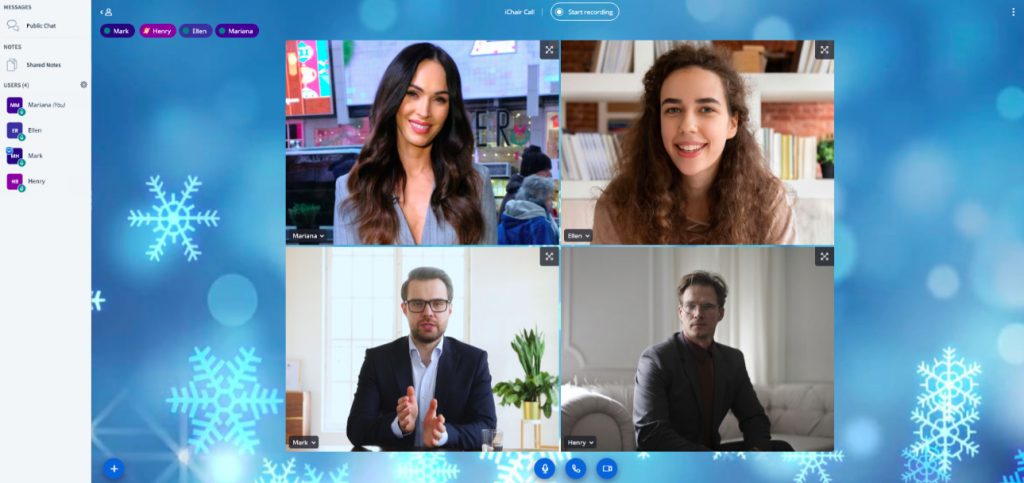 Step 3: Set the stage for the event theme
There are always those activities that bring the nostalgic feeling about something you used to love doing when you were younger or simply ensure tradition between colleagues is kept. These are good initial bonding activities.
Secret Santa is the most common and effective one as it not only triggers empathy and joy between your team during both selection and exchange presents moment, but also creates hilarious funny moments with the creativity some people are capable to pull out.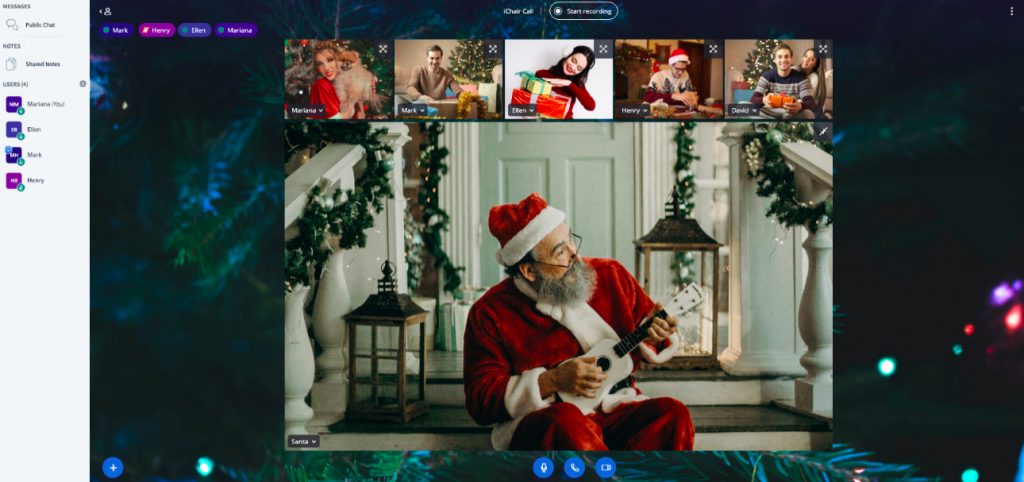 Step 4: Celebrate achievements and set milestones
This is the moment to share the most important messages, that may even seem trivial from the management team perspective, but in fact, those make your team feel part of the family and better understand what they have achieved and where are they heading.
A traditional overall Early outlook presentation can be set, but this is also a chance to innovate and trigger unexpected reactions in your audience. The year passes for everyone and between your team, there are several stories interesting to share with everyone. You can either try to include a bit of everyone or screen the most interesting stories.
Step 5: Strengthen your team's bond with a fun challenge
Even though it is important to pass more serious and encouraging messages at this time of the year, it is also the perfect time to nourish your team effectiveness. It is known that the higher the bonding your team has, the higher the performance, so why don't you take the opportunity and boost that bond.
At this point you can select the team building activity you believe it would better fit your team and also the virtual environment, which could be between Team trivia games or End of year quizzes with personal and professional information to be shared and learned.
Step 6: Provide agenda free moments with different experiences for your team to navigate
As at physical events, you usually allow your team to set their own course, you can also provide a similar level of flexibility during your virtual event. The average additional logistic is marginal and you ensure you are actually providing an experience that your team is fond of.
Several parallel sessions can be prepared and opened, some simultaneous other sequentially, which can go from thematic workshops, karaoke, reading, guest speakers, guessing contests and many more interesting ones that ensure the same goal.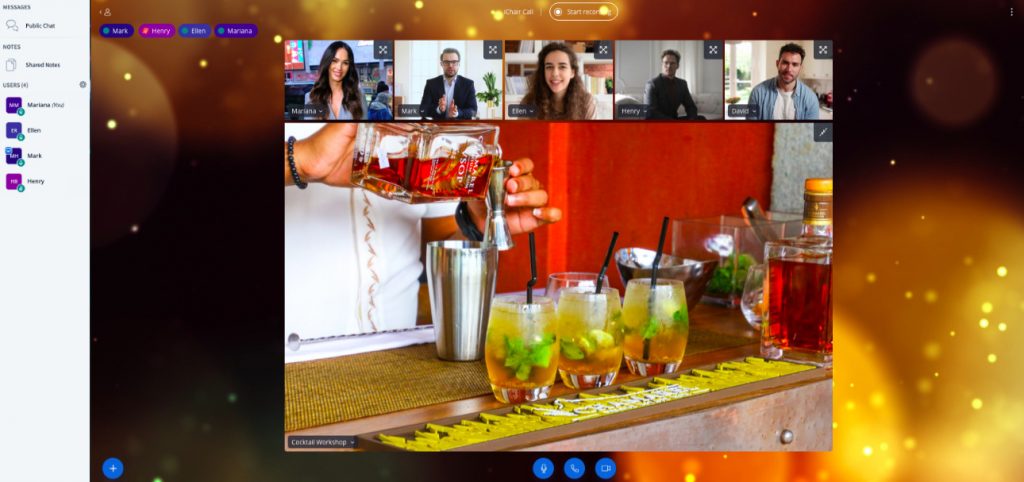 Step 7: Bring everyone together for the Big Closing
Saying a warm goodbye should also not be ignored. The experience up until this point was great but you want your team to remember this moment for the years to come.
You can all sing a Christmas carol together, toast for the eyer that passed and the one to come and you can make it memorable. What if you send dinner & drinks or a bottle of champagne to every teammate? It is something you would usually pay for and you can leverage on Uber Eats, Glovo, DoorDash, GrubHub, or other providers, and the "exceed expectations moment" is definitely guaranteed. We have also prepared a sustainable virtual event gifts list! Impress your team and make this the best virtual Christmas gathering ever!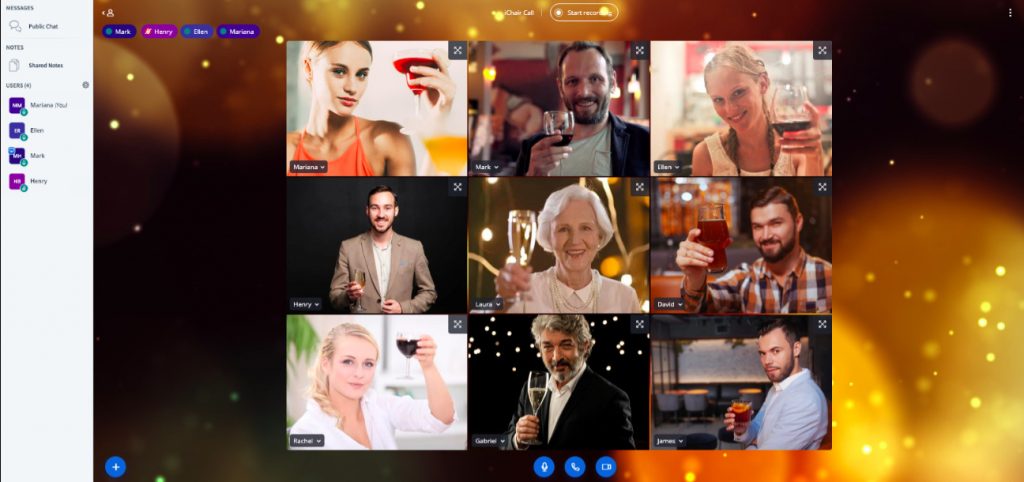 Get in touch with Scoocs to know more about how we can help you transform your virtual Christmas gatherings into meaningful online moments!